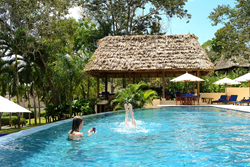 We wanted to create a summer vacation that would broaden teachers' horizons while also giving them a chance to relax and refresh before going back to work.
San Ignacio, Belize (PRWEB) March 17, 2015
The Lodge at Chaa Creek is saying "thank you" to teachers the world over with new Belize summer vacation package that offers intellectual stimulation as well as relaxation in a pristine rainforest setting, according to the Belizean eco resort's owners.
Calling educators "the world's unsung heroes", Lucy Fleming, a former English teacher who started Chaa Creek as a small farm with her husband Mick in the 1980s, said that the vacation offers were a way to thank teachers and acknowledge their contributions.
"I've always felt that teachers don't get the recognition, or the pay, they deserve, and we designed these summer offers as a way to say 'thank you' by providing affordable holidays for people in the teaching profession, locally and worldwide," Ms Fleming said.
She said that Chaa Creek's new "Teachers' Summer Adventure" offers a range of affordable summer vacation options for teachers the world over. In addition to discounts on accommodation and special all-inclusive Belize vacation packages for teachers, Chaa Creek will be including "add-ons", such as one-on-one guided nature walks for teachers.
"We wanted to create a summer vacation that would broaden teachers' horizons while also giving them a chance to relax and refresh before going back to work. It's an opportunity to do something different, with colleagues, families and friends or just on one's own.
"There's a surprising amount of intellectual stimulation to be found in Belize, whether in learning about Belize's rich cultural heritage, including the fascinating Maya civilization that flourished here, the diverse flora and fauna, by broadening a knowledge of Spanish in bilingual Belize, or even by just having the peace and quiet to catch up on reading.
"And when you combine that with healthy meals and physical activities such as horseback or mountain bike riding, swimming, canoeing, hiking, birding, exploring Maya temples and archaeology sites, or just walking along jungle trails, you have all the ingredients for a truly invigorating summer holiday."
Ms Fleming said that educators can take advantage of the offer either through 10% discounts on accommodation between July and September 2015, or by booking a Teachers' Summer Adventure all-inclusive Belize vacation package.
The Teachers' Summer Adventure vacation package includes everything, from accommodation, meals and activities, for a complete Belizean rainforest vacation for one set price, Ms Fleming explained.
"In addition to eco-luxe accommodation and healthy, farm-fresh meals in our Mariposa restaurant, the package includes a range of activities such as canoe trips down the Macal River, horseback riding or mountain biking through jungle trails, guided visits to Maya temple sites and caves, nature walks and more, as well as complete access to Chaa Creek's 365 acre private nature reserve, where miles of jungle trails connect a butterfly farm, the Natural History Museum, infinity pool, Jungle Lounge, Mariposa restaurant, Maya medicinal plant trail and organic farm and more.
"With everything included there're no hidden costs or credit card surprises when teachers return home," she said.
The Gayot's Guide recommended Hilltop Spa and additional options such as upgrades to private Jacuzzi suites are also available, she said, adding that group packages are also available, and Chaa Creek has a fully equipped conference centre for meetings, workshops and seminars.
"Teachers never stop learning, and I know from experience how important it is to take time out to relax and get back in tune with yourself and nature. We wanted to offer educators a chance to do both in the most affordable and carefree manner possible," she explained.
To take advantage of the Teachers' Summer Adventure Vacation educators can contact Chaa Creek directly, or ask their travel agent for details, Ms Fleming said.
"We're very happy to be able to offer this package as a way to thank all those unsung heroes in the teaching profession," she said.
"And we're always glad to host teachers and receive their input and suggestions for our own educational and community programs. Even for us, it's never too late to learn," Ms Fleming added.