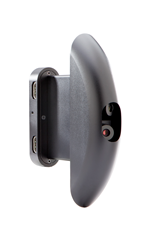 West Chester, OH (PRWEB) March 16, 2015
Array Telepresence, a start-up telepresence solution provider will be debuting a new system that enables immersive telepresence in typical conference rooms using an organization's existing videoconferencing system. The Array Equal-i DX Dual Camera Module and Array's Equal-i 2S Image Processor, which work together to dramatically improve the videoconferencing experience, will be demonstrated at Array's booth at Enterprise Connect, March 16-18, 2015 at the Gaylord Palms in Orlando, FL.
The Equal-i DX Camera Module and Equal-i 2S Image Processor use Equal-i Technology to dramatically improve the quality of traditional videoconferencing systems. The Equal-i technology brings the furthest participants "up close and personal" increasing the pixel count on the farthest person by 6 and ½ times that of a conventional Pan-Tilt-Zoom videoconferencing camera. The system also improves the meeting format, conceals the camera, and improves the eye-line. The system also powers dual displays with HD video using a single videoconferencing codec and bitstream, creating a wide-format, immersive view of the remote scene with no discernable impact on latency.
The new Equal-i DX Camera Module, the first of three camera modules the company is bringing to market in the coming months, requires just 4mm between dual displays and sits between the displays at perfect vertical eye-line where it sits on and is concealed by the display bezels. The camera plugs into Array's Equal-i 2S Image Processor which applies custom image improvement algorithms to improve the scene before handing the video stream to the codec for the trip across a network.
Array Chief Creative/Commercial Officer Howard Lichtman states, "The Equal-i system will allow organizations that use video to dramatically improve the quality of the experience for users which has proven to improve satisfaction which improves usage which translates into improved ROI for videoconferencing. For the Pro-AV community and systems integrators it gives them the opportunity to upgrade or refresh existing videoconferencing systems which drives associated spending or design telepresence environments which delight users at 1/20th the cost of existing telepresence solutions."
At their booth, number 1635, attendees will get a hands-on demonstration of the patent-pending technology driving the Array Telepresence experience. Herold Williams, the company's CEO and founder, and C2O Howard Lichtman will also be giving a talk daily at 4:30PM, "Q & A with Herold and Howard."
The Equal-i DX Camera and Image Processor will begin shipping later in March and can be purchased from some of the world's leading Pro-AV and systems integrations shops including: AVI-SPL, Corporate Initiatives, Draycor, MCW Solutions, Ultra Active (Hong Kong), Solutors (Scandinavia) , and YorkTel. Distribution in Europe is being handled by Imago ScanSource.
To schedule a private meeting or demonstration with Array at Enterprise Connect, Please email RSVP(at)ArrayTelepresence(dot)com.
ABOUT ARRAY TELEPRESENCE
Array Telepresence features Equal-i technology, which turns a traditional videoconferencing codec into a life-size telepresence environment with the addition of a 2nd display and a patent-pending image processor and dual camera. Array Telepresence's CEO and Founder, Herold Williams, has been at the forefront of immersive telepresence since its inception.
ABOUT ENTERPRISE CONNECT
Enterprise Connect is the leading conference and exhibition for enterprise communications and collaboration in North America. Produced by UBM Tech, Enterprise Connect brings corporate IT decision makers together with the industry's vendors, analysts and consultants to focus on the issues central to enterprise communications and collaboration hardware, software, systems and services. Enterprise Connect owns and produces No Jitter, (http://www.nojitter.com/), providing daily blogging and analysis, and it also serves the enterprise communications community with a weekly email newsletter, a Webinar Series and Virtual Events.