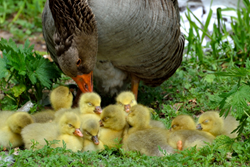 (PRWEB) March 16, 2015
A mother goose watching over her extended family of fluffy goslings won the USDA sponsored Cutest Bird Photo Contest for February. Suzanne Muma of Charlevoix, MI, submitted the photo which won in the category of "Cutest Bird Family."
The photo is featured on the Biosecurity For Birds (BFB) website http://healthybirds.aphis.usda.gov and on BFB spokesbird Healthy Harry's Facebook page until the middle of April when the March winners will go up.
Muma's group of 19 goslings share the same father, with three mother geese. "The mothers share responsibility for looking after all of them." Meanwhile, she adds, the gander is fiercely protective of his family. "The mothers get a little skittish when you come near their babies, but the father will fly at you like he wants to bite your head off," she says with a smile.
The Muma family began raising birds years ago when their then 4th grade daughter joined the 4H club and began a small flock as her project. That daughter is 25 now and while all five of the Muma children have grown up and left home, Muma says her nest is hardly empty. She now has ducks, geese, and chickens to fill the gap.
"We continued tending and growing our flocks because we like having the fresh eggs and knowing where our food comes from," she said. "The flocks are various breeds, what we call a domestic cross." They are all hardy birds who can survive cold Michigan winters, she added.
An ardent practitioner of biosecurity for her birds, she read about the contest online. "I often check the various backyard bird owners' sites to get ideas for caring for my birds. I want to be sure that they are disease free and safe." To that end, she keeps people away from the bird coop area, and she maintains a clean, dry and well-ventilated space for her flocks.
The Cutest Bird Photo Contest began in December. At the end of each month, the winning photos will be posted on the Biosecurity For Birds website. The winners will be considered for inclusion on the 2016 Biosecurity For Birds Calendar.
The Biosecurity For Birds program, begun in 2004, is designed to educate backyard poultry owners and bird enthusiasts about highly contagious poultry diseases and other threats to birds. The program helps inform bird lovers how to prevent disease and tells them what to do if they suspect their birds might be ill.
Media representatives may contact Joelle Hayden at joelle.r.hayden(at)aphis(dot)usda(dot)gov (301) 851-4040 or Pam Goldstein at pgoldstein(at)diversitymc(dot)com 973-377-0300, Ext. 14