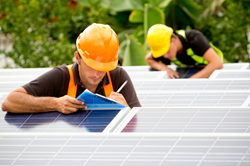 Few, if any companies in the U.S. have 500 Megawatts of "Shovel Ready" Solar Farm Projects states John E. Green, CEO of ISS.
Asheville, NC (PRWEB) March 15, 2015
As one of the largest developers of solar farm projects here in the U.S., Innovative Solar Systems, LLC has already sold 300 Megawatts of projects this year and expects total company sales in the next several months to push the company's 2015 numbers to approximately 550 Megawatts. Projects already sold earlier in the year include a 75 Megawatt solar farm project located in Fayetteville, NC and an 80 Megawatt solar farm nearing construction in Hope Mills, NC. ISS was the winner of several RFP's for 50 Megawatt size projects in 2014 and those projects were also sold and are in various stages of construction states John E. Green, CEO and managing partner of Innovative Solar Systems.
The managing partners at Innovative Solar Systems, LLC have been meeting with investment companies and buyers daily to pair the companies remaining 35MW-80MW projects up with the right buyers so that construction can begin almost immediately. Innovative Solar Systems, LLC currently has approximately 500MW's of "Shovel Ready" projects ranging in size from 35 Megawatts all the way up to 80 Megawatts and construction can begin immediately once a buyer secures one of these projects from ISS. Innovative Solar Systems, LLC also has firm quotes from some of the most credit worthy EPC's in the country that are on standby and ready to build these projects in a timely manner and at very competitive pricing.
John E. Green at ISS states that Investors are really under the gun to find these types of large scale solar farm projects that are "Shovel Ready" and be built immediately due to the fact the Federal Tax Credits expire in 2016 and solar farms must be on line by sometime in 2016 to fully utilize those Credits. Innovative Solar Systems, LLC is one of the few companies in the U.S. that currently has readily available and construction ready large scale projects that can meet these requirements. For more information about Innovative Solar Systems, investor relations or to learn about the company's currently available 35MW-80MW "Shovel Ready" projects for sale please call (828)-215-9064.