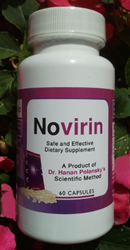 The CBCD is encouraged by the development of newer, safer treatments against HPV caused cancers. The problem, as we see it, is that none of these treatments targets the source of the disease. - Greg Bennett, CBCD
Rochester, NY (PRWEB) March 16, 2015
"Infected with the human papillomavirus (HPV)? The Center for the Biology of Chronic Disease (CBCD), which tested the formula of Novirin in two post-marketing clinical studies, recommends taking this natural antiviral supplement." - Greg Bennett, CBCD
Doctors face a difficult choice. When treating HPV caused throat cancer, they need to choose between two terrible outcomes. They can let the patient die from cancer, or they can treat them with a combination of chemotherapy or radiotherapy, which can also kill the patient. However, new surgical techniques called transoral surgical techniques (TOS), reduce the need for these doctors to choose. As authors of a new study noted, "functional outcomes may be superior following TOS treatment." (1) TOS is important since the rate of human papilloma (HPV) caused throat cancer (HPV related oropharyngeal squamous cell carcinoma) is increasing at epidemic rates.
Dr. Hinni and colleagues wrote that "Oncologists are recognizing a changing pattern in the cause of oropharyngeal cancer, namely the increasing incidence of HPV-associated tumors. An effort is underway to reduce the morbidity of treatment without jeopardizing survival." (1) Dr. Hinni is from the Mayo Clinic College of Medicine in Phoenix, Arizona. Importantly, however, the authors also noted that "management of oropharyngeal SCC will most likely continue to be multidisciplinary." (1) In other words, doctors will most likely use a combination of treatments in addition to TOS against HPV throat cancers. With this in mind, the CBCD recommends that HPV infected individuals take Novirin. The formula of this natural, antiviral product was designed to help the immune system target the latent form of the HPV virus.
Click to learn more about Novirin and the HPV virus.
The formula of Novirin was tested by Hanan Polansky and Edan Itzkovitz from the CBCD in two clinical studies that followed FDA guidelines. The studies showed that the Novirin formula is effective against the HPV and other viruses. The clinical studies were published in the peer reviewed, medical journal Pharmacology & Pharmacy. The first study was published in a special edition on Advances in Antiviral Drugs.
Study authors wrote that, "individuals infected with the HPV…reported a safe decrease in their symptoms following treatment with (the formula of Novirin)." (2) The study authors also wrote that "we observed a statistically significant decrease in the severity, duration, and frequency of symptoms." (2)
Novirin can be ordered online on the Novirin website here: http://www.novirin.com.
Novirin is a natural antiviral dietary supplement. Its formula contains five natural ingredients: Selenium, Camellia Sinesis Extract, Quercetin, Cinnamomum Extract, and Licorice Extract. The first ingredient is a trace element, and the other four are plant extracts. Each ingredient and its dose were chosen through a scientific approach. Scientists at polyDNA, the company that invented and patented the formula, scanned thousands of scientific and medical papers published in various medical and scientific journals, and identified the safest and most effective natural ingredients against latent viruses.
To date, Novirin is the only natural antiviral product on the market with published clinical studies that support its claims.
A study showed that "over the past decade there has been an increase in the incidence of oropharyngeal cancer, especially among individuals under the age of 45 years, which has been attributed to human papilloma virus (HPV) infection. Nonsurgical or organ preserving therapies, which utilize combinations of chemotherapy and radiotherapy (RT), have become popular treatments for advanced stage oropharyngeal cancers. However, long-term follow-up studies have failed to demonstrate superior survival rates. In addition, RT with concurrent chemotherapy is associated with a high rate of severe acute toxicities in the majority of patients, late swallowing dysfunction, and a mortality rate." (See Laryngoscope, from September 2009) (3)
What this means, is that until recently, both chemotherapy and radiotherapy were used to treat HPV throat cancer. However, both treatments caused negative health effects. In other words, the treatments poisoned the patients and caused just as much damage as the cancer!
However, patients who undergo transoral surgical techniques (TOS) have a much higher, long-term survival rate. One of these surgical techniques is called transoral laser microsurgery (TLM), and "is a minimally invasive … surgical technique that offers a locally targeted treatment, relatively rapid recovery, and a low long-term toxicity profile." (3)
"The CBCD is encouraged by the development of newer, safer treatments against HPV caused cancers. The problem, as we see it, is that none of these treatments targets the source of the disease. TOS do not target the HPV virus, but rather the tumors caused by the virus." – Greg Bennett, CBCD
How is HPV transmitted?
"Some types of HPV infection can develop without sexual relations, but often HPV is passed from one person to another during intimate contact including open mouth kissing, skin-to-skin contact, oral contact with genitalia, and vaginal and/or anal sex." (See MetroJacksonville.com, from August 7, 2014) (4)
"There are 109 known different types of human papillomaviruses (HPV). They cause warts and other lesions and two in particular, HPV 16 and HPV 18, cause cancers of the cervix, anus and penis, as well as the mouth and throat. Types 6 and 11 can cause lesions and genital warts." (See NBC News, from May 20, 2014) (5)
What other treatments are available against the HPV?
"There are no drugs approved against the HPV. Current treatments include procedures, such as cryotherapy, conization, and the Loop Electrosurgical Excision Procedure (LEEP). These procedures use liquid nitrogen, a surgical knife (scalpel), a carbon dioxide (CO2) laser, or electrical current to remove the abnormal growths caused by the HPV. These growths include cells that harbor the active virus. The procedures do not target cells with the latent virus. Since they do not remove the latent virus, these procedures only produce a temporary remission." (2)
In contrast, Novirin was designed to target the latent HPV.
Individuals interested in viewing published studies on the formula of Novirin can go here:
http://www.scirp.org/journal/PaperInformation.aspx?PaperID=36101#.U-s9ouOSz90
and
http://www.scirp.org/journal/PaperInformation.aspx?PaperID=44234#.U-s9w-OSz90
Click to learn more about Novirin and HPV.
All orders of Novirin are completely confidential, and no information is shared or sold to any third party. Privacy is assured.
References:
(1) Hinni ML1, Nagel T, Howard B. "Oropharyngeal cancer treatment: the role of transoral surgery." Curr Opin Otolaryngol Head Neck Surg. 2015 Apr;23(2):132-8.
http://www.ncbi.nlm.nih.gov/pubmed/25761152
(2) Polansky, H. Itzkovitz, E. Gene-Eden-VIR Is Antiviral: Results of a Post Marketing Clinical Study. Published in September 2013.
http://www.scirp.org/journal/PaperInformation.aspx?PaperID=36101#.U-s9ouOSz90
(3) Jason T. Rich, MD, Simon Milov, MD, James S. Lewis, Jr., MD, Wade L. Thorstad, MD, Douglas R. Adkins, MD, and Bruce H. Haughey, MBChB "Transoral Laser Microsurgery (TLM) ± Adjuvant Therapy for Advanced Stage Oropharyngeal Cancer: Outcomes and Prognostic Factors." Laryngoscope. 2009 Sep; 119(9): 10.1002/lary.20552.
http://www.ncbi.nlm.nih.gov/pmc/articles/PMC3877921/
(4) Metrojacksonville.com - Risky Business: Adolescent Sexual Behavior and HPV. Published August 7, 2014.
metrojacksonville.com/article/2014-aug-risky-business-adolescent-sexual-behavior-and-hpv#.U-sPfOOSz90
(5) Fox, M. HPV Found in Two-Thirds of Americans, Survey Finds. Published on May 20, 2014.
nbcnews.com/health/health-news/hpv-found-two-thirds-americans-survey-finds-n109846