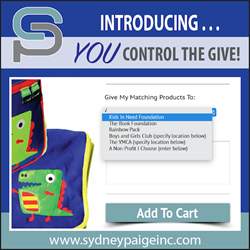 Because it's the right thing to do, and I love doing what others tell me is impossible to achieve.
San Francisco, CA (PRWEB) March 16, 2015
Social enterprise, Sydney Paige Inc., is raising the bar on the buy one, give one business model, allowing shoppers to choose the non-profit organization that the 'give' of their 'buy' will go to. This, after already giving matching high quality products and filling their donated backpacks with school supplies, shows that Sydney Paige Inc. is serious about their social impact.
Founder and CEO, Courtney Brockmeyer, states, "This is something that we've wanted to do from the beginning and that our customers have been asking for, but we've tabled it because we weren't sure how we could handle the added complexity and cost. All advisors told us that while they absolutely love the idea, not to do it." When asked why then the Company is moving forward with this, Brockmeyer simply states, "Because it's the right thing to do." Then continues with a big smile on her face, "and I love doing what others tell me is impossible to achieve."
Rebellion aside, Brockmeyer has a clear business and financial plan in place to make this 'impossible' possible. Now customers can buy quality backpacks for their own kids and loved ones and direct the matching backpacks, which will be filled with school supplies, to the non-profit organization they want to support. "We are so excited about the additional kids in need this will allow us to reach, as well as being able to work with the passionate groups and individuals who share our goal of helping underserved children learn and thrive in school."
Ann Wohlstetter, Director of Marketing, explains that online shoppers can select the non-profit of their choice when adding their items to their cart. They can also select from a pre-populated list of the Company's select giving partners, which they call their Giving Crew. These consist of national partner, Kids In Need Foundation, as well as regional partners, The Book Foundation, Rainbow Pack and individual Boys & Girls Clubs. Wohlstetter states, "We are excited to offer our customers the opportunity to have a more personal impact on the children we are helping together."
About Sydney Paige Inc.: Sydney Paige (http://www.sydneypaigeinc.com) is a buy one, give one company where for every product sold, a matching product is donated to a child in need. They sell quality backpacks, accessories and children's books with a focus on education as self-empowerment for a better future. With their products and their 'Giving Back Together' movement, Sydney Paige Inc. addresses the top reasons for drop out, which are the lack of confidence and lack of tools for students to do their work. Sydney Paige products are sold online, through retailers and via fundraisers. Sydney Paige Inc. is certified as a women's business enterprise by the Women's Business Enterprise National Council (WBENC).