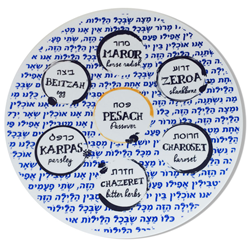 ModernTribe is proud to have created an affordable and inclusive seder plate made in the USA.
Atlanta, GA (PRWEB) March 16, 2015
In February, Judaica retailer and maker, ModernTribe, posted a survey to its ModernTribe Facebook page asking for feedback on designs for Passover Seder Plates. The response was large and passionate:
"... [the background] looks like barbed wire and with the yellow circles makes it look too much like a combination of concentration camp and the yellow Star of David."
"Transliteration would help me so much. I feel... out of place and excluded because I can not read Hebrew."
"Many people are beginning to put an orange on the seder plate to support women's rightful place in Jewish life. That would be really cool and I'd probably buy it if I saw it over one without it."
ModernTribe received over 75 survey responses and had multiple online discussions with customers about the proposed Passover seder plate designs. After several iterations, the final design includes the Ma Nishtana ("What Has Changed?"), the Hebrew Four Questions read or sung during the Passover Seder. The seder plate also includes the seder foods in Hebrew, English, and Hebrew transliteration and a place for an orange. Putting an orange on the seder plate is a newer tradition symbolizing the inclusion of LGBT people, women, and other marginalized populations in Judaism. The Freestyle Ma Nishtana Seder Plate is made in the United States, sells for $89, and is available at ModernTribe.com and in stores across the country, including ModernTribe's Atlanta location.
"ModernTribe is proud to have created an affordable and inclusive seder plate made in the USA, " says ModernTribe founder Jennifer Rivlin Roberts. "ModernTribe's mission is to help the new generation express and share our Jewishness and keep our traditions alive, meaningful, and fun."
ModernTribe's store is located at 171 Auburn Avenue NE, Suite G, Atlanta, GA 30303. Hours and directions to ModernTribe's Atlanta store can be found online.