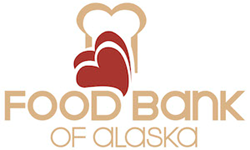 Anchorage, AK (PRWEB) March 16, 2015
Coping with the serious issues of hunger, The Food Bank of Alaska has been securing donated food for nonprofit agencies to distribute to hungry Alaskans. The food bank's vision is a hunger-free Alaska and they are dedicated to eliminating hunger in Alaska by obtaining and providing food to partner agencies feeding hungry people and through anti-hunger leadership.
Every month hungry Alaskans are faced with tough choices – 53% report choosing between rent and food, 64% between dinner and transportation, and 56% decide between medicine and meals. The Food Bank is very grateful to their community that provides the three necessities that allow FBA feed hungry Alaskans - food, volunteers and cash contributions. This "three-legged stool" of giving makes it possible for FBA to continue to say that for every $1 they receive, 5 pounds of food are made available to their partner agencies. They displayed special gratitude for the work of local insurance agency, Devery Prince Insurance Agency, which has hosted and promoted one campaign in the past to help end childhood hunger in Alaska. The new fundraising page can be accessed here: http://www.deveryprinceagency.com/Help-End-Hunger-In-Alaska_17_blog
Families with limited financial resources often have fresh fruits and vegetables at the bottom of their list because they are expensive. They end up buying cheap, highly processed foods that are high in calories but are low in nutrition. The Food Bank of Alaska provides nutritious food for an estimated of 83,174 different people annually.
To help The Food Bank of Alaska continue providing food for hungry people, Devery Insurance Agency will donate $10 to the cause for each person recommended to the agency for a quote – no purchase necessary. Anyone willing to help this campaign can recommend someone they know might need a new insurance evaluation for their auto, home, life, and more.
With agencies in Anchorage and Wasilla, Devery Prince is employing its social media channels, email and text message communications in the campaign, and dedicating a full page of their monthly magazine to the cause. The electronic version of Our Hometown magazine can be viewed here: http://www.deveryprinceagency.com/Our-Hometown-Magazine_43
Operating as agents of change in the community, Devery Prince will continue to work for organizations like The Food Bank of Alaska. Any members of the community can request to be considered for future campaigns through this link: http://www.deveryprinceagency.com/Submit-A-Community-Cause-Idea_49. Entries are diligently submitted for review, and the elected worthy causes are properly contacted by a representative of Devery Prince's Community Program. More information regarding past and current campaigns supported by Devery Prince Insurance Agency can be found at http://www.deveryprinceagency.com/community-cause.
About Devery Prince Insurance Agency
Serving from offices in Anchorage and Wasilla, AK, Devery Prince Insurance Agency is committed to bringing local communities an insurance agency that understands their needs. Taking pride in its team of professionals by day, and PTA members and childrens' sports coaches by night, Devery Prince Agency works with carriers to assemble a variety of products and services for its customers. From all of the products a typical consumer needs (home, auto, boat, ATV, etc.,) to all financial services products and tools (retirement, savings, long term care, disability, etc.,) and business insurance (liability, building, auto) to workplace and individual benefits (accident, critical illness, cancer, disability, life), Devery Prince covers all the bases for insurance needs in South Central Alaska. More information about Devery Prince Agency is available at http://www.deveryprinceagency.com/. To immediately reach an expert at the agency, call (907) 279-9000, or (907) 376-7638.