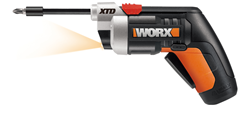 The XTD driver's top-mounted slide switch extends the drive shaft up to 2 inches to handle a variety of applications.
Charlotte, N.C. (PRWEB) March 18, 2015
Back in the day, homeowners handled a range of fastening needs by buying large sets of manual screwdrivers with varying shaft lengths, as well as different types and sizes of bits. Either that, or run to the hardware store each time there was a need for a driver not in the toolbox.
Today, cordless screwdrivers are showing up in more and more workshops, kitchen tool drawers and glove compartments. But not until the advent of the WORX XTD has a cordless driver provided the flexibility and improved control of an extendable drive shaft to connect with hard-to-reach fasteners. This lightweight (1.1 lb.), compact driver is great for installing curtain rods, mini-blinds, electrical boxes and outlet plates, coat hooks, bathroom accessories, kitchen cabinet hardware and many other home improvements and repairs.
The XTD driver's distinguishing feature is its top-mounted slide switch that extends the tool's drive shaft up to 2 in. for greater reach. There are nine shaft positions, ranging from 0 to 2 in. to handle a variety of applications. The longer drive shaft improves visibility and helps drive screws straighter with less slipping. This reduces stripped screw heads and worn bits. An auto spindle lock allows the tool to be used as a manual screwdriver.
The XTD driver is powered by a built-in, 4 volt, MaxLithium 1.5 Ah battery. MaxLithium battery technology delivers high capacity to hold a charge for up to 18 months, without any memory effect or self-discharge. The driver recharges in 5 hours.
The XTD housing is constructed of nylon composite with a comfortable, smooth rubber grip on the handle. It has a two-finger trigger, LED light to illuminate the work area and forward/reverse button to change bit rotation. The driver has a no-load speed of 230 rpm and maximum torque rating of 36 in.-lbs.
The XTD kit includes the cordless driver, eight of the most commonly used screwdriver bits and plug-in charger. The cordless screwdriver has a 3-year warranty.
The WORX 4V XTD Xtended Reach Driver (WX252L, $29.99) is available at http://www.worx.com and other websites, including Menards and Lowe's, as well as regional hardware and home centers nationwide.
To reach out to WORX social media links visit: Facebook: https://www.facebook.com/worxus?ref=hl; Twitter:https://twitter.com/WORXTools;
Pinterest: http://pinterest.com/worxtools and Instagram: @WORXTools