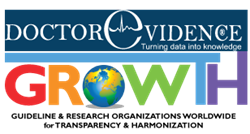 Santa Monica, CA (PRWEB) March 16, 2015
Doctor Evidence clients will benefit from the growing set of services available to support their work in evidence-based medicine (EBM), especially the high level scientific and procedural expertise that will be provided by the new Global Head of Methodology, Innovation & Quality, Craig Whittington, PhD.
Dr. Whittington most recently served as Associate Director (Clinical Effectiveness) of the National Collaborating Centre for Mental Health (NCCMH) and was a Senior Research Fellow at University College London (UCL). UCL is ranked 4th in the QS World University Rankings 2013/14. The NCCMH is commissioned by the National Institute for Health and Care Excellence (NICE) to produce clinical guidelines for the National Health Service in England. NICE's guidelines are widely considered to be among the best in the world, exceeding the Institute of Medicine's standards for developing trustworthy clinical practice guidelines. As a systematic reviewer and methodologist, Dr. Whittington has 14 years' experience and been involved in the development of 36 clinical guidelines, for which he has conducted over 100 systematic reviews. He is author of over 80 research papers, book chapters, and conference posters/presentations. His most highly cited journal article was published in The Lancet and received the journal's Paper of the Year award 2004. Referred to by the Editor as 'one of the most stunning and influential systematic reviews in recent years,' it has been cited over 620 times.
Dr. Whittington was also responsible for methodological training and development within the NCCMH, and has widely contributed to the development of clinical guideline methods by participating on several National and International working groups. He is currently Director of the UK GRADE Centre, a member of the GRADE Working Group, Chair of G-I-N Tech (a Guidelines International Network Working Group), a member of the Governance Board for the US AHRQ Systematic Review Data Repository (SRDR), and a member of the Editorial Board (Statistical Advisor for Reviews) for the British Journal of Psychiatry.
In his new position at Doctor Evidence, Dr. Whittington will support all areas of the organization's client services in relation to providing high-level methodological support and strategic oversight. Dr. Whittington will also play a key role in the strategic development of the company's GROWTH Collaborative—Guidelines and Research Organizations Worldwide for Transparency and Harmonization. He will be responsible for maintaining strong links with academic and research groups involved in development of methodological techniques relevant to the GROWTH Collaborative how its members collaborate on evidence reviews leading to clinical guideline recommendations.
Dr. Whittington states, "I am thrilled to be joining Doctor Evidence in this capacity, having been inspired by the passion and drive the company's senior management brings to improving evidence-based healthcare. In my experience, the Doctor Evidence software platform and services are world leading, and I've been impressed by the way the company is constantly seeking to push the boundaries of how technology can assist organizations to make sound business decisions and develop high quality systematic reviews and healthcare guidelines."
"We are honored to have Craig join our efforts in unifying the best evidence-based medicine methodologies in one transparent platform," said Bob Battista, co-founder and Chief Executive Officer of Doctor Evidence. "Craig has an incredible knowledge base of the challenges facing many global guideline organizations and a keen sensibility on how we can foster collaborative efforts in democratizing evidence reviews underlying clinical recommendations."
Dr. Whittington has already been contributing to the organization as a member of the company's Scientific Steering Committee and he will be full-time as the new Global Head of Methodology effective May 11, 2015.
About Doctor Evidence: Doctor Evidence is a specialty software platform and services company aimed to assist stakeholders across the healthcare ecosystem to make and inform clinical decisions with the most relevant medical evidence. The Doctor Evidence methodology uses a Digital Outcome Conversion (DOC™) approach of taking data from static sources and to transform it into reusable, dynamic databases. The Doctor Evidence software platform empowers both public and private sector clients via programs like its GROWTH Collaborative—Guidelines and Research Organizations Worldwide for Transparency and Harmonization. Doctor Evidence is headquartered in Santa Monica, CA. For more information on the company and its products and services, please visit drevidence.com and GROWTHevidence.com.