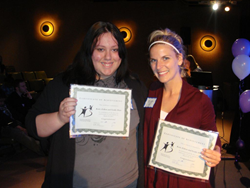 BBBS is a wonderful organization and Leslie has been a great influence in the life of Katie. We are very proud that Katie was accepted into North Central College in Naperville with and they offered her a scholarship
Chicago, IL (PRWEB) March 17, 2015
With a new charity campaign in Illinois, Tunnell Insurance Agency looks to support Big Brothers Big Sisters, the nation's largest donor and volunteer supported mentoring network. BBBS makes meaningful, monitored matches between adult volunteers ("Bigs") and children ("Littles"), ages 6 through 18 with the purpose of developing positive relationships that have a direct and lasting effect on the lives of young people. The agency is raising funds to support Katie, a "Little", after she graduates from high school to pay for her college books, laptop and other college expenses. Donations can now be made through the campaign's page at http://www.tunnellinsuranceagency.com/Help-Little-Sis-Katie-With-Big-Education_17_community_cause.
Katie Zellers her Big Sister, Leslie Brewer are one of nearly 2,000 mentoring pairs set up by the Big Brothers and Big Sisters of Chicago. The pair doesn't see each other every day, but as Katie has hopped from one stage of life to the next during the last four years, Brewer has remained a lingering presence. Prepping for her next step in life, Katie is waiting to hear back from colleges as to whether she has been admitted.
"BBBS is a wonderful organization and Leslie has been a great influence in the life of Katie. We are very proud that Katie was accepted into North Central College in Naperville with and they offered her a scholarship! She is still waiting to hear back from University of Chicago, UIC, and several other colleges. We want to help her pay for some of her college expenses so she can have the opportunity to go to college."
said John Tunnell, the Agency's principal.
The campaign will be heavily promoted over the course of the next 45 days, through the agency's social media channels, email and text message communications, as well as through their monthly magazine, delivered to thousands of households in Illinois, where the agency currently operates. Our Hometown magazine reserves a full page to feature Katie's story, and other details. The electronic Flipbook version of the current issue can be accessed here: http://www.tunnellinsuranceagency.com/Our-Hometown-Magazine_41
Tunnell Insurance Agency asks the support of all of those who are able to spare $5 or more. Any and all the help is valuable and greatly appreciated by Katie. Donors are encouraged to visit http://www.tunnellinsuranceagency.com/Help-Little-Sis-Katie-With-Big-Education_17_community_cause and also share the page with friends and family. Those contributing will be acknowledged in the agency's monthly magazine.
The Community Program held by Tunnell Insurance Agency will continue to feature a new cause every 60 days, in an effort to rebuild, restore and offer relief to the community. In many cases, the agency will work with local nonprofit organizations, to elect families and individuals in need to receive such support, but an open channel has also been established at http://www.tunnellinsuranceagency.com/Submit-A-Community-Cause-Idea_50, so other members of the community can bring to the agency's attention a specific need, known to them. More information regarding past and current campaigns supported by Tunell Insurance Agency can be found at http://www.tunnellinsuranceagency.com/community-cause.
About Tunnell Insurance Agency
Tunnell Insurance Agency's mission as a team is to provide the best insurance and financial services in the industry. Their number one job is to protect the current assets clients have worked so hard for, and to help them invest so they can retire with the right amount of money. Tunnell's Insurance Agency's success is measured by customer satisfaction and the value they bring. The agency is also prepared to help customers build a strategy to best achieve their financial goals. To immediately reach an expert at the agency, call (773) 279-8600 or (773) 681-5400