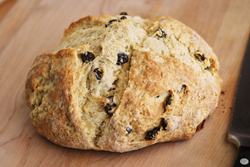 "McCann's Irish Soda Bread, not just for St. Patrick's Day"
San Luis Obispo, Ca. (PRWEB) March 16, 2015
House of Bread founder, Sheila McCann enjoys sharing the Irish Soda Bread recipe with customers and new friends. "My Grandma McCann, whom I named Grandma's White after, would make Irish Soda Bread all year long" says McCann. Irish Soda Bread first made its appearance in the late 1800's. It was inexpensive, easy to make, and lasted a long time (assuming it wasn't consumed right away!). The "soda" in the name comes from the use of baking soda (or "bread soda" in Ireland) as opposed to using yeast. Before cooking, an "x" is slashed on the top. Legend has it that it is there to ward off evil or to let the fairies out of the bread. Regardless of what you believe, it's the perfect place to break the bread and share it with others.
White Flour (all purpose) 4 cups
White sugar 1/4 cup
1 teaspoon of salt
1 teaspoon baking soda
4 Tbsp butter
1 cup currants or raisins
1 large egg, lightly beaten
1 3/4 cups buttermilk
2 teaspoons of caraway seeds (optional)
Preheat the oven to 350 degrees and line a cookie sheet with parchment paper.
Combine the flour, sugar, baking soda, baking powder, and salt in a bowl. Add the cold butter and gently stir. Whisk the eggs and the buttermilk in a separate bowl and then add to the flour mixture. Combine using your hands. Finally, add the raisins and caraway seeds and gently form into a round loaf. The dough will be stiff like a biscuit or scone dough.
Place the dough on the prepared pan and slash an "x" into the top with a serrated knife. Bake for 35 minutes until golden. Serve warm.