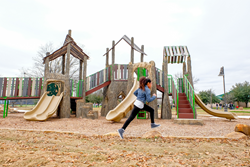 We are committed to reconnecting children in America with nature, and this project is part of our strategy...
Fort Payne, AL (PRWEB) March 16, 2015
GameTime, a leading manufacturer of commercial playground equipment and themed playscapes, recently opened a new park in Austin, Texas that helps to reconnect children and families with nature.
Designed in conjunction with landscape architects from TBG Partners, along with guidance and support from the Austin Parks Foundation, Natural Learning Institute, National Wildlife Federation and Austin Parks and Recreation, the playscape is accessible for children and adults of all abilities and features a massive, custom treehouse. There are animals sculpted into the structure inside and out, encouraging exploration and discovery as children climb, balance, and slide throughout the structure. There is a smaller "club-house" themed play system for younger children that features recycled plastic lumber, as well as plenty of swings and other motion play activities.
Designing the perfect playground for the Austin suburb was a collaborative effort between designers and the community. "This project began with the brainstorming process of design professionals, but was inspired by models made by children as part of a nature program here at Parks and Rec," said Marty Stump, Division Manager at the City of Austin Parks and Recreation Department. "Many of the kids here today were part of that process."
Integrated with the manufactured equipment are multiple naturalized areas for play and exploration. The design of these natural play elements was informed by the research of the Natural Learning Institute and their NatureGrounds program. Developed in conjunction with PlayCore, NatureGrounds is a comprehensive program that provides best practice guidelines for creating and retrofitting play environments for parks and school grounds that integrate manufactured play equipment and the living landscape.
A dry creek bed runs throughout the play areas, promoting loose parts play during dry periods and water exploration during the rainy times. Native plantings such as trees, shrubs and grasses were added to create comfort, visual interest and additional play value. Overseeing the naturalization efforts was Allen Cooper of the National Wildlife Federation, who stated, "we are committed to reconnecting children in America with nature, and this project is part of our strategy to assist and create natural play areas so children and families can connect with nature close to their homes."
One of the most exciting features of the park is the 100-foot long SkyRun Zipline that allows children to experience the sensation of flight across the playground in a compliant way. Ladye Anne Wofford of the Austin Parks Foundation was particularly excited about bringing this activity to the park. "I love that the children have an opportunity to take some 'risks' - taking a little bit of risk helps children become adults."
For GameTime, the project was an opportunity to witness the inspired vision of community leaders who are focused on making life better for their children and families. "It's profoundly gratifying to work with partners like the City of Austin who understand the need for play and to reconnect children with nature," said Tom Norquist, Senior Vice President at GameTime. "Austin has a vision for the families in their community and we were honored to play a part in their mission to enrich childhood through play."