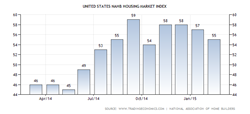 A declining index value during the housing winter slump was to be expected
Chicago, IL (PRWEB) March 15, 2015
Lenders like Peoples Home Equity waiting for an abundance of housing data to be released in the first half of next week.
Monday
The week begins with Monday mornings United States Nahb Housing Market Index report. According to TradingEconomics.com, the index "is based on a monthly survey of home builders", They are asked to rate current sales of single-family homes and sales expectations for the next six months and to rate traffic of prospective buyers. Scores for responses to each component are used to calculate a seasonally adjusted overall index, where a number over 50 indicates more builders view sales conditions as good than poor." The index was at 58 in December 2014, then fell to 57 in January 2015, and then to 55 in February. A declining index value during the housing winter slump was to be expected. However, now that spring has nearly arrived Peoples Home Equity expects builders to renew their optimism about the housing market. The lender also thinks that an unchanged index value or another decline would be reflective of builders' worries of rising mortgage rates to come. Lenders like Peoples Home Equity know that higher mortgage rates may scare away some borrows but not as many that will apply for a home loan due to the higher number of Americans currently employed.
Tuesday
On Tuesday, March 16th, both building permits and housing starts data will be released for the month of February. While both announcements for January were above 2014 levels they were deemed as sluggish for 2015. Building permits were just 1.06 million in January which is below the historical average. TradingEconomics.com states building permits "United States averaged 1362.86 Thousand from 1960 until 2015."
Housing starts did not fare much better than building permits in January by reporting at 1.065 million. Again TradingEconimics.com highlighted the fact that housing starts have "averaged 1448.75 Thousand from 1959 until 2015".
Wednesday
On Wednesday, lenders will get a national overview of how many mortgage applications have been submitted by Americans for the week ending on March 13th. For the past 7 weeks the average change in mortgage applications has been a dismal -4.11%. Thus, this weekly report is growing in importance now as the first day of spring fast approaches on March 20th. Lenders, realtors, and market watchers alike will all be watching this number to estimate when housing activity will reactive and surge in the upcoming spring and summer buying season. Prospective mortgage applicants should note that when home loan applications being to rise steadily, mortgage rates will follow. Locking in a low rate 30-year fixed rate loan now near 4% is better than waiting later when the Federal Reserve will probably raise interest rates causing borrowing costs to rise overnight!
If in need of a mortgage, contact a Peoples Home Equity loan officer today at: 262-563-4026