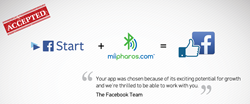 "Your app was chosen because of its exciting potential for growth and we're thrilled to be able to work with you" The Facebook Team
California, San Francisco (PRWEB) March 17, 2015
On Friday the 13th March 2015, an email arrived in ​MiiPharos' inbox, that was going to shake the team. All efforts are clearly described and recognized in the following line signed by the Facebook team: "Your app was chosen because of its exciting potential for growth and we're thrilled to be able to work with you."
As every journey begins with the first step, MiiPharos made one more stride ahead in the App world, while working quietly and methodically to deliver a revolutionary application and service. Every step brings the effort closer to the team's targets. The concept, the team formation, the hardware, the Apple certification for MFI, copyrights registration, first sales, first customers in local and global markets set us apart. Countries such as: USA, Canada, Peru, Greece, Germany, Holland and many more customers are asking from ​MiiPharos a legitimate iBeacon solution.
Proudly, MiiPharos is a real turn key solution, completely independent, and serving the market with an all-inclusive, App, cloud services, content management system (CMS) and great analytics. MiiPharos makes the ​consumer behavior, ​proximity and location based marketing a reality, so easy and hassle free as «unpack and play».
Gender, time, language, marital status, age range, interests, and more than 3,000 personalized methods can be delivered from a single MiiPharos iBeacon device to multimedia content, track loyalty, reward customers with points, deliver personalized coupons, analyze consumer behavior or just give a special offer on your customer's birthday or special occasions automatically.
Now brands, businesses, museums, municipalities, sports events, casinos, and local attractions can deliver: video, coupons, information, TripAdvisor ratings, marketing material, and promotional information, directly pushed on consumers' smart phones​ and tablets​ both iPhone and Android.
Facebook's FbStart is a great platform combining a mentoring community and useful services to promising and dynamic Apps like MiiPharos.
The MiiPharos team is working continuously on improving services and experience to keep the market on its toes.
Learn more about what is MiiPharos here.
​MiiPharos is a product of Kerverus IT Ltd and member of Kerverus Holding IT Plc listed in Cyprus Stock Exchange.
Miipharos is the future of promotion now!