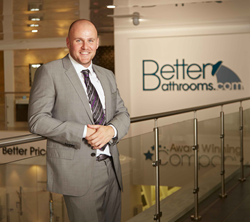 (PRWEB UK) 16 March 2015
Entrepreneur Colin Stephens, founder and CEO of multi-channel retailer Better Bathrooms, pledged more expansion as he accepted the Fast Growing Business award, sponsored by marketing and communications agency Influential.
Colin added, "I am so excited we have won this award as it shows how much the business has achieved over the past 13 years and how the company has grown. I am proud of the entire team, our achievements to date, and our constant ambition generates the motivation to reach greater accomplishments."
On the night, Colin praised the support of investor The Business Growth Fund, which he said had given him "the balls" to push the business - which he started at home - forward by opening new showrooms nationwide and growing http://www.betterbathrooms.com.
The awards, at the Midland Hotel in Manchester, were attended by more than 280 people and hosted by BBC journalist and presenter Nina Warhurst.
Chris Barry, editor of TheBusinessDesk.com said: "The Masters awards was a memorable occasion and congratulations are due not only to our winners, but to every company and individual on the shortlist.
"The winners are an inspiration and truly represent the best of the North West business community."
The North West Masters Awards, a partnership between TheBusinessDesk.com and Out There Events, were sponsored by Cenkos Securities, law firm Gateley, The Business Growth Hub, NCC Group, North West marketing and communications agency Influential and the Greater Manchester Skills Gateway.