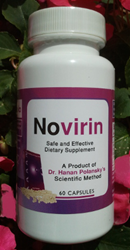 The bottom line is that HSV contributes to infertility in men, and makes it harder for a couple to conceive. - Greg Bennett, CBCD
Rochester, NY (PRWEB) March 18, 2015
"Infected with the herpes simplex virus (HSV-1 or HSV-2)? The Center for the Biology of Chronic Disease (CBCD), which tested the formula of Novirin in two post-marketing clinical studies, recommends taking this natural antiviral supplement." – Greg Bennett, CBCD
There is research to suggest that the herpes virus, especially (HSV-2), which normally causes genital herpes, can cause fertility problems … but not in women. Advice for women with herpes includes trying to conceive when symptoms are not evident. "You should only try to conceive during the time when you are ovulating and only do so when you are not having an outbreak. Because of this, it can be more difficult to become pregnant because you must try to conceive around your symptoms." (1) For infected men, however, the herpes virus may cause real fertility problems. According to a recent study, latent herpes can contribute to male infertility. The study was published in January 2013 and states that, "viral infections impair male fertility, either by directly invading the male genital tract cells, or by indirectly causing local inflammatory or immunological responses that could deteriorate reproductive functions." This is significant since, "The association between HSV infections and male infertility has been investigated, and some studies reported the association of HSV infection with infertility." (2)
Other studies support these results. For instance, the Journal of Obstetrics and Gynaecology (3) revealed a significant association between HSV and infertility. They detected HSV-1 DNA in 24% of semen samples from infertile men using a nested PCR technique. In addition, Fertility and Sterility stated that, "HSV DNA was detected in 49.5% of semen samples, and HSV infection was significantly related to low sperm count as well as poor motility."(4)
These studies show that almost half of the men had a drop in sperm levels due to the presence of the herpes virus. The bottom line is that HSV contributes to infertility in men, and makes it harder for a couple to conceive. The CBCD recommends that individuals infected with the herpes virus take Novirin to help the immune system target the latent herpes virus. The formula of this natural herpes remedy was found to safely and effectively reduce HSV symptoms in two separate post-marketing clinical studies that followed FDA guidelines.
Learn more about herpes symptoms.
The formula of Novirin was tested by Hanan Polansky and Edan Itzkovitz from the CBCD in two clinical studies that followed FDA guidelines. The studies showed that the Novirin formula is effective against the herpes simplex family of viruses, which includes VZV. The clinical studies were published in the peer reviewed, medical journal Pharmacology & Pharmacy, the first, in a special edition on Advances in Antiviral Drugs. Study authors wrote that, "individuals infected with the (HSV-1) … reported a safe decrease in their symptoms following treatment…" (5) The study authors also wrote that, "we observed a statistically significant decrease in the severity, duration, and frequency of symptoms." (5)
Novirin can be ordered online through the product website, here: http://www.novirin.com
Novirin is a natural antiviral dietary supplement. Its formula contains five natural ingredients: Selenium, Camellia Sinesis Extract, Quercetin, Cinnamomum Extract, and Licorice Extract. The first ingredient is a trace element, and the other four are plant extracts. Each ingredient and its dose was chosen through a scientific approach. Scientists at polyDNA, the company that invented and patented the formula, scanned thousands of scientific and medical papers published in various medical and scientific journals, and identified the safest and most effective natural ingredients against latent viruses.
To date, Novirin is the only natural antiviral product on the market with published clinical studies that support its claims.
It is important to note, that according to Medscape.com, "Five percent of all women of childbearing age report a history of genital herpes, and up to 30% have antibodies to herpes simplex virus 2 (HSV-2). Two percent of women acquire genital HSV during pregnancy." (See Medscape, last updated January 23, 2013) (6)
After infection, in both men and women, "Typically, lesions appear 2-14 days after exposure. Without antiviral therapy, the lesions usually last for 20 days. Viral shedding usually lasts 12 days, with the highest rates of shedding during the prodrome and the first half of the outbreak. Viral shedding usually ceases before complete resolution of the lesion." (6)
Are there antiviral treatments against the herpes virus?
"Two types of antiviral treatments against HSV are available: topical and oral. The treatments include penciclovir, acyclovir, famciclovir, and valaciclovir. However, their effectiveness is limited. For instance, a meta-analysis of five placebo-controlled and two dose comparison studies evaluated the effect of aciclovir, famciclovir or valaciclovir on symptoms. The meta-analysis showed that oral antiviral therapy decreases the duration and the associated pain of an outbreak by merely one day." (5). There is also the natural supplement Novirin, which has a formula that was designed to help the immune system target the herpes virus when it is in a latent form.
"We recommend that HSV infected men concerned about fertility issues related to the virus take Novirin against the latent HSV. We also recommend that before becoming pregnant, infected women take this natural herpes remedy. However, women should stop taking Novirin once pregnant, and then begin again after birth." - Greg Bennett, CBCD
Interested individuals can view the studies published on the natural antiviral formula of Novirin here:
http://cbcd.net/Gene-Eden-VIR-Clinical-Study.php
and
http://cbcd.net/Gene-Eden-VIR-Decreases-Fatigue-Clinical-Study.php.
All orders of these products are completely confidential, and no information is shared or sold to any third party. Privacy is assured.
References:
(1) Johnson, K. "Can Herpes Simplex Cause Infertility?" Published March 6, 2015. Pregnancytips.org
http://pregnancytips.org/getting-pregnant/fertility/can-herpes-simplex-cause-infertility/
(2) Seyed Hamidreza Monavari,a, Mostafa Salehi Vaziri,b Mohammadali Khalili,c Mahmoud Shamsi-Shahrabadi,b Hossein Keyvani,b Hamidreza Mollaei,b and Mehdi Fazlalipourb "Asymptomatic seminal infection of herpes simplex virus: impact on male infertility." The Journal of Biomedical Research. Published Online in 2012.
http://www.ncbi.nlm.nih.gov/pmc/articles/PMC3596154/
(3) el Borai N1, Inoue M, Lefèvre C, Naumova EN, Sato B, Yamamura M. "Detection of herpes simplex DNA in semen and menstrual blood of individuals attending an infertility clinic." Journal of Obstetrics and Gynaecology Research. Published in February 1997.
http://www.ncbi.nlm.nih.gov/pubmed/9094812
(4) Kapranos N1, Petrakou E, Anastasiadou C, Kotronias D. "Detection of herpes simplex virus, cytomegalovirus, and Epstein-Barr virus in the semen of men attending an infertility clinic." Fertility and Sterility. Published in June 2003
http://www.ncbi.nlm.nih.gov/pubmed/12801561
(5) Polansky, H. Itzkovitz, E. Gene-Eden-VIR Is Antiviral: Results of a Post Marketing Clinical Study. Published in September 2013. http://www.scirp.org/journal/PaperInformation.aspx?PaperID=36101#.VNsjjuaUf90
(6) Medscape.com - Genital Herpes in Pregnancy. Last updated January 23, 2013.
http://emedicine.medscape.com/article/274874-overview#aw2aab6b3