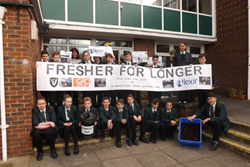 It has been amazing to learn how much food is often wasted and to think of some simple ways in which to stop the waste. I've enjoyed working with the Alexir staff and finding out more about how they can package food to last longer
(PRWEB UK) 18 March 2015
The Alexir Partnership are excited to announce their participation in the Fresher for Longer Schools programme; a new initiative that has been set up to teach children about food waste and to encourage small behaviour changes to tackle the issue to save money and reduce waste. The programme is part of the UK's national "Love food, Hate Waste" campaign and involves students in 10 secondary schools from around the country taking the lead in reducing food waste within their school communities. The programme is being run by Global Action Plan, a United Nations endorsed environmental charity charged to inspire and empower young people to lead their school community in making more sustainable food decisions.
The Alexir Partnership have sponsored the campaign and teamed up with The Warwick School in Redhill to support them through the programme as their STEM (Science, Technology, Engineering and Mathematics) Ambassadors. David Washington and Claire Summersby joined the students for two days of interactive workshops at the school. Claire Summersby, Marketing Manager at the Alexir Partnership, said: "The Alexir Partnership has a proud history of working with the local community and regularly works on projects that encourage young people to take our environmental responsibilities seriously. We were therefore delighted to be able to sponsor and support The Warwick School in the Fresher for Longer campaign to encourage behaviour changes in young people. The students have taken the project very seriously and have come up with some fantastic ideas to implement around the school. We wish them luck in the challenge!"
The workshops involved the students, with the support, encouragement and expertise of the volunteers from Alexir, investigating how packaging protects food on its journey from field to fork and coming up with a programme to encourage the whole school community, including the students, teachers, canteen staff and parents to reduce their carbon footprints by considering how to source, store, cook and dispose of food in an environmentally friendly way. On March 25th they will submit their final competition entry against the other schools taking part in the campaign.
Josh Weston aged 12, a student at The Warwick School, said: "It has been amazing to learn how much food is often wasted and to think of some simple ways in which to stop the waste. I've enjoyed working with the Alexir staff and finding out more about how they can package food to last longer".
Rita Beniparshad, Teacher of Food Technology said: "This has been a really fascinating and worthwhile project for our students – with benefit to the whole school and beyond. Everyone becomes more aware of the need to reduce waste and ways in which to achieve this – whilst saving money too".
Notes to Editors
About the Alexir Partnership
With proven reliability, excellent quality and innovative packaging solutions, the Alexir Partnership is the only UK owned company that offers a complete design to delivery service in the food packaging and co-manufacturing industry.
http://www.alexir.co.uk
+44 (0)1732 866681
innovation(at)alexir(dot)co(dot)uk