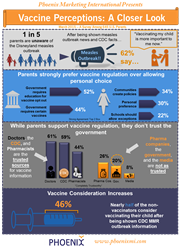 Since the Disneyland outbreak, our survey suggests that non-vaccinators may rethink the balance between risk of disease and risk of adverse events from the vaccine.
Raleigh, North Carolina (PRWEB) March 18, 2015
Phoenix Marketing International, a global marketing service firm, today released findings from a market research study on parents' awareness and perceptions of the recent U.S. measles outbreak. While the rift between pro- and anti-vaccinators continues, the results of the survey show the outbreak has brought about new realizations among parents. Not only do most parents agree that vaccinations are smart, helpful, and safe, two out of five parents are outright angered that unvaccinated children are allowed to attend school. Those who vaccinate are generally against allowing parents to selectively not vaccinate their children, preferring government-enforced regulation.
In contrast, six percent of respondents can be classified as non-believers of the MMR (measles, mumps, rubella) vaccine. Not only do non-believers find vaccines to be "dishonest" and "toxic," they also are not convinced of the efficacy of the MMR vaccine. Within the relatively small proportion of non-believers, some respond with more pragmatic arguments ("The risks of harm are statistically higher than catching these diseases") while others have a more emotional approach ("I'm just not going to do it. I don't want to, I don't feel like it, … and I definitely do not trust these pharmaceutical companies").
The survey illustrates the recent growth of the non-believer segment: Two-thirds of non-believers have vaccinated at least one of their children against MMR, indicating that they were once believers. Steve Wakefield, President of Phoenix Healthcare, notes, "The positive impact that vaccines have had on the near eradication of measles in the U.S. has brought about a different perspective on their necessity and the perceived risks. These diseases are not seen by many parents as credible threats in the 21st century because they have never seen a child with measles or polio, but they hear about the risks and have seen children with perceived side effects such as autism and that has a tangible impact. Non-believers from our study are actually less concerned about their children contracting measles as compared to parents whose children are vaccinated."
The survey also illustrates the potential effect the outbreak may have going forward. Mr. Wakefield continues, "Since the Disneyland outbreak, our survey suggests that non-vaccinators may rethink the balance between risk of disease and risk of adverse events from the vaccine." After being shown information from the Centers for Disease Control (CDC) on the outbreak and the spread of measles, nearly half of non-vaccinators said they would consider having their child vaccinated.
The reaction to the CDC information also highlights the value of awareness and communication, particularly among non-vaccinators. Mr. Wakefield adds, "Disseminating educational information needs to be carefully executed through the correct channels. While the information itself has an impact on parents, the disseminator of the information is perhaps even more important." In addition to the CDC, healthcare professionals such as doctors and pharmacists are considered the most trustworthy resources; on the other hand, institutional sources such as the news media, pharmaceutical companies, and government sources other than the CDC are not trusted.
About the survey
In February, 2015, Phoenix fielded an online 10-minute survey among 645 American parents to determine perceptions and awareness of the recent measles outbreak and to measure the impact on attitudes and behaviors.
About Phoenix Marketing International
Phoenix Marketing International is a premier global marketing services firm providing its clients with tailored, unique insight into their customers and markets via a wealth of existing proprietary data. Coupled with custom research products and the latest qualitative and quantitative techniques, Phoenix has extensive research experience across the Automotive, Financial Services, Healthcare, Converged Technology and Media, Restaurant, and Travel/Leisure sectors. From the strategic definition of consumer needs to effective marketing program implementation, PMI provides profit-driven market solutions and is committed to maximizing a client's Return on Marketing Investment (ROMI) by leveraging the ability to attract and retain new business through cost efficient data acquisition and statistical modeling techniques. Founded in 1999 by Chairman and CEO, Allen R. DeCotiis and President, Martha Rea, Phoenix Marketing International has established its global presence with offices in major locations such as New York, New Jersey, Boston, Philadelphia, Raleigh/Durham, Detroit, and London.