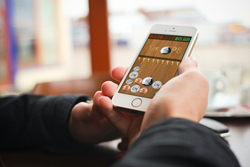 Video Games can be a learning tool.
Manchester, CT (PRWEB) March 18, 2015
Video games can be a learning tool. This educational game developed by Aeralas LLC is designed for kids in 1st and 2nd grades to learn how to count coins. The interactive features of this app make counting coins as seamless as in real life. Video games are continuing to integrate into the classroom as more and more electronic devices appear in school settings.
An increasing number of school systems are using phone and tablet devices for learning. This app is just one example of the fundamental shift taking place. Now, students can take their learning home and even have interactive homework.
According to app developer Dan Iannicelli, "Count the Coins is really part of the revolution of educational apps in the classroom. Over the next ten years the influx of video gaming in education may reach a critical point where every student in the United States is using video games as a part of their daily learning environment."
Count the Coins 2 is an interactive app for coin counting and targeted to 1st and 2nd graders. Drag the correct combo of coins to the top of the screen. The app is available on phones and tablets making it very versatile and great to allow your children to learn while playing. Learn how to count change between $0.01 and $0.99. Learn how to recognize, count, add and make change with U.S. coins. Teach your kids how to learn about U.S. Coins, and learn how to add different coins. There is no advertising in the app.
Count the Coins is currently priced at $1.99 in the United States and priced accordingly in other regions.
Check out our website at http://www.AerApps.com for other learning apps as well as mobile games for various
platforms. Our next development in this genre will be Count the Euro, which will be released in June 2015.
Count the Coins 2 is developed by Aer Apps, a mobile app and game development company founded in
2011.