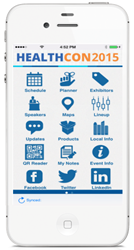 Columbia, MD (PRWEB) March 19, 2015
a2z, Inc., the Maryland-based event management software company, is proud to present for the second year in a row the ChirpE mobile solution to AAPC for their 23rd Annual National Conference, also known as HEALTHCON2015 – an educational opportunity and networking event for professionals involved in medical coding, regulatory compliance, and physician practice management. This event will take place March 29 - April 1, 2015 in Las Vegas, NV.
The a2z-powered ChirpE mobile event app provides easy access to the complete conference schedule, event announcements, and social media posts – all in real-time and synced with the event website – providing for an enhanced experience.
The ChirpE mobile app offers attendees many features to increase productivity. Attendees can search for sessions by keywords or categories and view session details. An attendee can then use the Personalized Planner to build an itinerary of their selected conference sessions and use My Notes feature to take notes. In addition, attendees can use the planner to tag exhibitors that they want to meet in the Exhibit Hall and use the interactive floor plan to easily navigate to their booth locations – all of which are accessible within the mobile app. The HEALTHCON mobile app is available for iPhone/iPad and Android phones as well as all internet-enabled smart phones.
AAPC's Annual HEALTHCON offers education, career advancement, and networking opportunities to a wide spectrum of medical professionals, from beginner to expert understanding. This four-day event will advance all those involved in healthcare: coders, billers, auditors, payers, practice managers, compliance officers, attorneys, physicians, and many more in the industry.
For more information about the conference, please visit http://www.healthcon.com
About a2z
a2z, Inc. provides powerful web-based event management tools that grow your show by increasing and accelerating booth sales, helping boost revenue, and enhancing engagement and value for everyone. a2z, Inc. powers more than 850 leading events every year. a2z's solutions are used by more events on the 2013 Trade Show Executive Gold 100 list than any other exposition and conference management software provider in the industry. Our clients benefit from increased connectivity with their audience via an improved website for their attendees and exhibitors and both web-based and native mobile app solutions. To fulfill our goal of developing quality solutions that help save money and meet your needs, a2z offers three platforms as one integrated solution: Expo & Conference Management, Networking & Lead Management, and ChirpE Mobile- which includes our web-based and native mobile apps for smart phone and tablet devices.
About AAPC
AAPC is the nation's largest association for the business of healthcare, with more than 140,000 members representing health systems, hospitals, physician offices, outpatient facilities, and payer organizations. AAPC training and certifications validate the knowledge and expertise of healthcare professionals in disciplines surrounding medical coding, billing, auditing, compliance, and practice management. Industry-leading credentials include Certified Professional Coder (CPC®), Certified Professional Biller (CPB™), Certified Professional Medical Auditor (CPMA®), Certified Professional Compliance Officer (CPCO™), and Certified Physician Practice Manager (CPPM®) credentials.