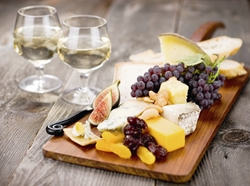 Allenhurst, NJ (PRWEB) March 16, 2015
Top chefs and winemakers from around the country are coming together this weekend for the seventh annual New Jersey Wine & Food Festival at Crystal Springs Resort in Hamburg, New Jersey. From Friday, March 20th to Sunday, March 22nd, food and wine lovers can mingle with chefs, winemakers and fellow enthusiasts and participate in related events. The festival will benefit the mission and programs of the James Beard Foundation.
Ticketholders can take part in a VIP Grand Tasting, winemaker seminars, cocktail tastings, a new chef competition, various dinners, and meet with some of the nation's top chefs. Also making an appearance will be James Beard award winning Chef David Kinch of the Michelin 2-star Manresa as the guest of honor.
For a complete list of special events, visit http://blog.nj.com/artful_diner/2015/03/seventh_annual_new_jersey_wine.html. Tickets may be purchased at the Crystal Springs Resort website at http://www.crystalgolfresort.com/dine/wine-fest/.
The James Beard Foundation is a non-profit organization that serves to promote the culinary arts and provides scholarships and educational opportunities to aspiring chefs. Visit their website to learn more at http://www.jamesbeard.org/.
About Bielat Santore & Company
Bielat Santore & Company is an established commercial real estate firm. The company's expertise lies chiefly within the restaurant and hospitality industry, specializing in the sale of restaurants and other food and beverage real estate businesses. Since 1978, the principals of Bielat Santore & Company, Barry Bielat and Richard Santore, have sold more restaurants and similar type properties in New Jersey than any other real estate company. Furthermore, the firm has secured in excess of $500,000,000 in financing to facilitate these transactions. Visit the company's website, http://www.123bsc.com for the latest in new listings, property searches, available land, market data, financing trends, RSS feeds, press releases and more.