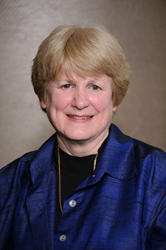 "I believe that every woman should be offered testing of BRCA1 and BRCA2 at about age 30 as part of routine medical care. Affordable, accessible early detection is a public health priority for saving lives," Dr. Mary-Claire King.
Atlanta, GA (PRWEB) March 16, 2015
African American women have higher death rates from breast cancer than do white women. Veena Rao, Ph.D., researcher, professor and co-director of the Cancer Biology Program in the department of OB/GYN at Morehouse School of Medicine, has pointed to multiple factors that contribute to the increased vulnerability of African American women, such as barriers to testing and quality of treatment. Leading medical researchers, including University of Washington geneticist and Lasker Laureate Mary-Claire King, highlight additional factors – undetected inherited mutations – and now recommend offering genetic testing for all women at about age 30.
Dr. King will make a free, public address at the Morehouse School of Medicine on March 19, to discuss Inherited Breast Cancer: From Gene Discovery to Public Health.
Dr. King's discovery in 1990 of the BRCA1 "breast cancer gene" demonstrated a mechanism of inherited cancer and proved that gene mutations could predict vulnerability to the disease.
A 2013 study of inherited predisposition to breast cancer among African American women by Dr. King and Dr. Olufunmilayo Olopade, director of The Center for Clinical Cancer Genetics, at the University of Chicago, found that 22 percent of African American breast cancer patients inherited a damaging mutation in BRCA1 or BRCA2 or another breast cancer gene. Women carrying a mutation of BRCA1 or BRCA2 have a greater than 80 percent lifetime risk of developing breast cancer, as compared with 11% for women without mutations.
Recently, Dr. King showed that women with BRCA1 or BRCA2 mutations had elevated risk for breast cancer, even if they have no family history of the disease. Therefore, she recommends that BRCA1 and BRCA2 testing be made available to all women.
"I believe that every woman should be offered testing of BRCA1 and BRCA2 at about age 30 as part of routine medical care," said Dr. King. "About half of women who inherit mutations in the BRCA1 or BRCA2 genes have no family history of breast or ovarian cancer and have no idea that they are carrying cancer-causing mutations. Affordable, accessible early detection is a public health priority for saving lives."
While some within the medical community voice caution that universal screening could lead to anxiety for some women, King and Olopade focus on the benefits. "Having a genetic mutation doesn't mean you're definitely going to get cancer," Dr. Olopade told NPR last September. "Women at greater risk should work with their doctors closely to make decisions about the best approach to reducing their chances of developing breast cancer."
Within the African American community, access to mammograms and other testing, as well as follow-up care continues to be a challenge. Disparities in availability of breast cancer care is a profound public health concern.
On March 19, Dr. King will give a special lecture, co-sponsored by the Albert and Mary Lasker Foundation and the Morehouse School of Medicine. In September 2014, the Lasker Foundation awarded Dr. King its prestigious Special Achievement Award in Medical Science for her "bold, imaginative, and diverse contributions to medical science and human rights."
For more information on the availability of genetic screening in the Atlanta area, please see:
The Center for Black Women's Wellness, Inc. (CBWW) - A non-profit organization that provides free and low-cost services to empower black women, and their families, toward physical, mental and economic wellness—offers clinical breast exams and mammogram referrals.
Emory Health Care High Risk Clinic - Provides comprehensive screening and education for patients at increased risk for breast and ovarian cancer. A genetic counseling visit includes a review of family history, personalized risk assessment and discussion of surveillance and genetic testing options.
Grady's Avon Foundation Breast Health Center - A multi-disciplinary breast care program, offering a full spectrum of clinical and support services, from screening and diagnosis to treatment and counseling.
Northside Hospital Cancer Institute Provides - in-depth consultation to examine patient's personal history and education about how sporadic hereditary cancer develops, while exploring patient and family's risk.
Planned Parenthood - Offers women's health services such as breast exams and mammogram referrals.
About the Lasker Foundation
Founded in 1942, the Albert and Mary Lasker Foundation envisions a healthier world through medical research. It seeks to improve health by accelerating support for medical research through recognition of research excellence, public education, and advocacy. For much of the 20th Century, the Foundation was led by Mary Lasker, who was America's most prominent citizen-activist for public investment in medical research. She is widely credited with motivating the White House and Congress to greatly expand federal funding for medical research, particularly through the National Institutes of Health.
About Morehouse School of Medicine (MSM)
Founded in 1975, MSM is among the nation's leading educators of primary care physicians and was recognized by Annals of Internal Medicine in 2011 as the top institution in the first study of U.S. medical schools for our social mission based on our production of primary care physicians, training of underrepresented minority doctors and placement of doctors practicing in underserved communities. Our faculty and alumni are noted for excellence in teaching, research and public policy, as well as exceptional patient care.
Morehouse School of Medicine is accredited by the Commission on Colleges of the Southern Association of Colleges and Schools to award doctoral and master's degrees. For more information, please visit http://www.msm.edu.