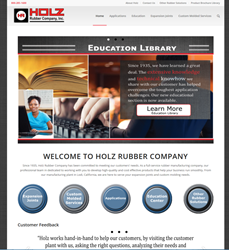 When we set out to create this new site, we wanted it to be an educational resource rather than just a promotional site.
Lodi, CA (PRWEB) March 18, 2015
Holz Rubber Company, a recognized leader in the manufacture of industrial expansion joints and rubber components, announced today that it has launched a new website with an emphasis on sharing educational information. Ideal for those unfamiliar or new to expansion joints and rubber manufacturing, the new content helps educate and teach readers what they need to know when planning and purchasing rubber expansion joints and rubber parts.
Committed to serving its customers, the Holz team recognized that the industries in which it serve are growing and changing. People retire, new employees are hired, and regulations are constantly changing to name a few. And, although expansion joints or rubber solutions may be only a small part of the customers' job, it is still crucial for solving application challenges.
"After 80 years in business, the Holz team has the experience and technical knowhow to make a difference in numerous applications. By sharing our knowledge with our customers, we can help find viable solutions to their toughest challenges," said Dave Smith, president of Holz Rubber Company. "When we set out to create this new site, we wanted it to be an educational resource rather than just a promotional site. Our intention is to continue the effort by adding more content including education videos."
The new site includes various topics including:

History, types, and properties of rubber
Expansion joint types including best applications
Terms and glossaries
Instruction and technical documentation
Application case studies
The new site address is http://www.holzrubber.com.
About Holz Rubber Company
Since 1935, Holz Rubber Company has led the molding industry by offering a wide variety of custom solutions to its customers. Holz also builds and delivers high-quality expansion joints for various applications across North America. Holz supports clients' needs with an experienced engineering staff, in-house compound development lab, and a 145,000 square feet manufacturing plant on seven acres located in Lodi, CA. Delivering the highest level of customer service along with superior products, customers consider Holz, a true strategic partner. Holz serves various industries including power generation, oil and gas exploration and production, mining, refining, water & waste management, agriculture, FRP and many others. For more information on Holz Rubber Company, please visit http://www.holzrubber.com or call 1-800-285-1600.