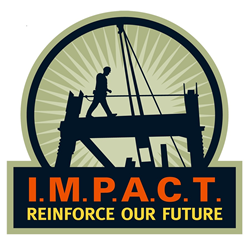 "As baby boomers leave the workforce, a significant number of jobs will be filled by younger generations," says Iron Workers General President Walter Wise. "But they must have the necessary skills to operate safely and productively."
WASHINGTON, D.C. (PRWEB) March 16, 2015
Connecting young Americans who need jobs with companies that need skilled employees is a conundrum organizations across the US have wrangled with for years. How do we help close the skills gap? Apprenticeship programs.
According to data from the Bureau of Labor Statistics, unemployment for 16-24 year olds sits at 11.9 percent as of February 2015, almost double the national unemployment rate of 5.2 percent. Deloitte, LLP, in a report produced in conjunction with the Manufacturing Institute, notes there are simply not enough talented people in the workforce to fill positions, and these vacancies are projected to increase in coming years.
"As baby boomers leave the workforce, a significant number of jobs will be filled by younger generations," says Iron Workers General President Walter Wise. "But they must have the necessary skills to operate safely and productively."
The Iron Workers and its labor-management arm, the Ironworker Management Progressive Action Trust (IMPACT), are working tirelessly to close that gap and get young people (back) to work.
The Iron Workers apprenticeship programs are some of the best in the country. Offered at more than 150 locations across the US and Canada, these apprenticeships combine on-the-job training with in-the-classroom learning to deliver the safest and best trained ironworkers.
"Apprentices are a vital part of our industry," says Lee Worley, the Iron Workers Executive Director of Apprenticeship and Training. "And, our earn-while-you-learn apprenticeship program helps Iron Workers make a good, fair wage with benefits, while training to be a journeyman in their field. The apprenticeship program plays an essential role in the growth and development of a safe and highly trained workforce."
Apprenticeships usually last three or four years, depending on the local union requirements. While working on the job and acquiring skills, apprentices are a constant part of the workforce on whom contractors and coworkers rely.
The BLS estimates that ironworking will grow much faster than average between 2012 and 2022. The need to rehabilitate, maintain and replace an increasing number of roads and bridges is expected to drive growth, as will the ongoing construction of large projects. Now is a perfect time for those thinking about trying their hand in ironworking to start an apprenticeship. A comprehensive list of all apprenticeship training centers is available here. Visit Iron Workers and IMPACT for more information.