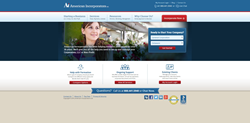 We pride ourselves on delivering a friendly and helpful experience for the businesses that come to us for formation and the many services we provide. We're excited that the new American Incorporators website reflects that
Wilmington, DE (PRWEB) March 17, 2015
American Incorporators Ltd., a firm that has been helping businesses form sustainable corporations and limited liability companies for over 35 years, announced the launch of a restructured and redesigned website at http://www.ailcorp.com with the goal of providing its current and prospective customers quick and easy access to critical resources and services.
"We pride ourselves on delivering a friendly and helpful experience for the businesses that come to us for formation and the many services we provide. We're excited that the new American Incorporators website reflects that," said Ann Chilton, Chief Executive Officer. "Our goal is to not only help businesses get up and running as credible corporations, but to work with them from inception and as they continue to grow and change over time."
Visitors to the new site have access to valuable up-to-date information on starting and maintaining a business. The support services and pricing American Incorporators offers are described in detail on the updated site and available for purchase online. Additionally, the site prominently displays the many service options available to customers and new visitors, including live chat, robust FAQs and access to social media channels. Other key features include:

An improved customer experience, making it easy to navigate through the site to learn more about pricing options and directly purchase the many services that American Incorporators offers
An interactive dashboard where established customers can create an account and keep tabs on open orders, notifications, forms of payment and more
A comprehensive glossary of terms and the ability to search for state-specific resources
Tutorials and help for customers to decide between the different business entity choices available – LLC, C-Corp, S-Corp, Non-Profit
In an effort to keep visitors to the site informed, American Incorporators' blog provides useful commentary on a variety of topics including strategies for naming your business, business owner checklists, tips on starting a business from home, corporate minute requirements, and raising capital with stocks.
About American Incorporators Ltd.
For 35 years, American Incorporators has been helping businesses make informed decisions about incorporating. While its core competency includes business formation, the company extends well beyond this initial service offering all of the incorporating documentation and compliance services clients need to protect their business. The company is a longstanding member of the Better Business Bureau and the National Public Records Research Association. For more information, visit http://www.ailcorp.com or call 800.441.5940.