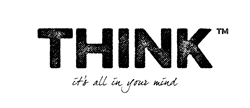 Los Angeles, CA (PRWEB) March 16, 2015
When you think about it, maintaining a healthy body has just as much to do with your mindset as it does your fitness routine. Maintaining the right attitude while working towards health and wellness can make all the difference. That is why THINK, a leader in positive thinking fitness apparel, has teamed up with Soul Cycle, a fitness studio to get you in shape as well as inspired. Come to Soul Cycle West Hollywood located at 8570 Sunset Blvd. in West Hollywood, CA on March 22nd at 3pm for a powerful reason to get out and get in shape! RSVP before March 18th by emailing info(at)thinkallways(dot)com as space is limited. This event is $35 per person and water and free shoe rentals are provided. All proceeds from the event benefit The Eileen Fisher Leadership Institute which promotes leadership among young women. With their core values of creativity, confidence, and connection it is easy to see why they are helping so many young women become powerful voices for causes they care about.
THINK is a leader in women's fitness apparel empowering women everywhere to feel good about themselves as they workout. Outfit yourself for fitness with a company that not only inspires, but also pays it forward. Each month THINK donates 10% of proceeds to various charities and nonprofits.