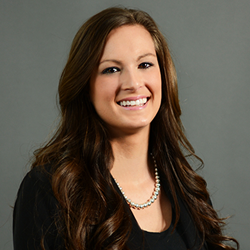 "We are all proud of Carly's accomplishments in an already promising career, and the honor of being recognized on this prestigious list is well deserved," stated TJ Revelas, Managing Partner of Lawley Benefits Group
Buffalo, NY (PRWEB) March 18, 2015
Carly Kennedy, a Wellness & Health Management Specialist in Buffalo with Lawley Benefits Group, was named to the Top 100 Health Promotion Professionals List from the Wellness Council of America (WELCOA).
Kennedy joined Lawley Benefits Group in 2012, and brings over eight years of experience in wellness and employee benefits with both large and small clients, working with companies to develop workplace wellness programs and more.
WELCOA's Top 100 were selected based on peer voting and a judging panel who reviewed the applications. To qualify, the health professionals must coordinate ongoing health programs, implement innovative health solutions, have a vision for the future of the health industry, and serve as business and community leaders. WELCOA is the largest national organization for health professionals and sets the standard for workplace wellness programming.
"We are all proud of Carly's accomplishments in an already promising career, and the honor of being recognized on this prestigious list is well deserved," stated TJ Revelas, Managing Partner of Lawley Benefits Group.
As a member of the WELCOA Top 100, Kennedy will be featured in the "Well Informed" magazine and on the welcoa.org website.
About Wellness Council of America
WELCOA (The Wellness Council of America) is one of the nation's most-respected resources for building high-performing, healthy workplaces. Over its 25+ year history, WELCOA has perfected its patented Well Workplace protocol which is the key to developing, delivering, and sustaining a healthy corporate culture. Whether you are a workplace wellness practitioner, human resources professional, business leader, or consultant/broker, WELCOA's tools, trainings, and resources will help you better promote organizational well-being and, at the same time, contain escalating health care costs. For more information, visit welcoa.org.
About Lawley
Lawley is a privately-owned independent regional insurance firm specializing in property, casualty and personal insurance, employee benefits and risk management consulting and ranked among the 100 Largest Insurance Brokers in the U.S., according to Business Insurance magazine.
For 60 years, Lawley's team of over 300 associates have developed customized property, casualty, surety and benefits insurance programs for businesses and municipalities of all sizes and personalized protection for individuals and their families. Lawley is consistently recognized as one of the Best Places to Work by Buffalo Business First.
Headquartered in Buffalo, NY, Lawley has branch offices across New York State in Amherst, Batavia, Elmsford, Fredonia, Melville and Rochester along with Darien, Connecticut and Florham Park, New Jersey. To find out more, visit lawleyinsurance.com.