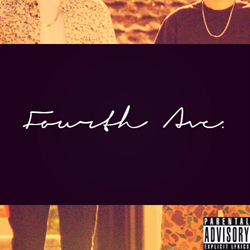 Los Angeles, CA (PRWEB) March 16, 2015
Coast 2 Coast Mixtapes presents the release of the "Fourth Ave" Mixtape by Los Angeles collective Poets On The Sidewalk. This 11 track project is currently available to stream and download on the Coast 2 Coast Mixtapes website. "Fourth Ave." features production from the Omito, Ask Beats, !llmind, Scrabble, Serious Beats, Esta, Canis Major, Knxwledge, and Saul Ordonez.
On their third release, the 'Poets on the Sidewalk' have broken barriers in the sounds of hip-hop music. This body of work transcends the idea of your average mixtape, bringing back the idea of quality over quantity. From bangers, to smoothness, to some food for thought, 'Fourth Ave.' is the ultimate package deal for a diverse and riveting listen.
The "Poets on the Sidewalk" are a hip-hop collective consisting of two Los Angeles based hip-hop artists, Thomas B. and Nums. They began their careers officially at the age of 16 when meeting in their local high school English classroom. Thomas B., was originally born in Santa Monica, CA but relocated to the small suburb of La Crescenta at the age of 5. Nums was born in Burbank, CA and raised in North Hollywood/Sylmar when he relocated in 3rd grade. Thomas B. found his love for hip-hop after hearing Kanye West's "Graduation" at the age of 12 years old. Nums influences came through his family when his cousin began to show him artists and producers such as Pete Rock, 9th Wonder, and the Hieroglyphics, who he would later show to Thomas when they became friends.
The duo's influences consist of many different types of artists and genres. Artists such as John Coltrane, Marvin Gaye, Aesop Rock, Nas, Pac, Big, Atmosphere, Amy Winehouse, and many more. The two began talking about hip-hop music as they grew closer and it became evident that both were determined to buckle down for a serious journey into the industry. Thomas B. began learning the basics of audio engineering after purchasing a small recording set. Nums, already having experience in the rap game, rejuvenated his skills for a serious career. A few months later the train was on a roll as the duo began recording their first few tracks.
Their first release was at the age of 17 when they released the "Poetry on the Sidewalk" tape. It was a small tape consisting of 12 songs that were strictly bars. As a year went on their second release "Dead Poets Society" showed a more versatile skilled talent when it came to creating a song. Locals of the town sparked interest and the word spread about their reputation as the very few hip-hop artists in the region. Their third release "Fourth Ave." is sure to be their best work yet with a unique sound that will attract the music lover of any kind. Though they are still young in the game, Thomas B. and Nums strive to make a major impact in the near future.
Stay up to date with Poets on the Sidewalk via Twitter at: @thomasbmanic
About Coast 2 Coast Mixtapes
Coast 2 Coast Mixtapes are the most widely distributed mixtapes in the world, with over 100 million downloads/plays generated by over 200 volumes officially hosted by major artists. Coast 2 Coast has a solid reach in the new music industry with a digital magazine, DJ coalition, industry tips blog, yearly convention, and more. Coast 2 Coast Mixtapes represents a unique opportunity for artists of all urban genres, from major to indie. For more information, visit http://www.coast2coastmixtapes.com.