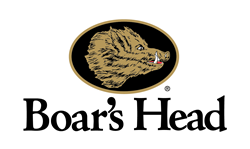 SARASOTA, Fla. (PRWEB) March 18, 2015
Boar's Head Brand®, one of the nation's leading providers of premium delicatessen products, knows that whether you're completing a basketball bracket or selecting dishes to share with friends and family, being bold is the key to success in March. With that in mind, the Boar's Head Bold® line of delicatessen meats, cheeses and condiments makes game watching and hosting both delicious and adventurous.
"Every good host knows that the key to having a successful party is having an amazing spread," said Elizabeth Ward, director of communications for Boar's Head Brand. "Whether guests are closely following their brackets or supporting their favorite team, these mouthwatering Boar's Head recipes will keep guests cheering long after the final buzzer."
Here is a perfect three-point play for an amazing Boar's Head game day event:

When it comes to planning the perfect gathering, atmosphere is just as important as the food being served. Here are some "game-time" adjustments to nail down the perfect party theme:
Throw-In the Ball: A great way to stick to the basketball theme is serving in ball themed dishes or dishes that have a circular shape, especially for those deliciously bold dips. It's a subtle and inexpensive way to show your guests you're in it to win it.
Cool-Down During Time Outs: The refrigerator will no doubt be packed with not only regular foods, but additional items for the party. Use a cooler for beverages so there's room for pre-prepared party appetizers and dips in the fridge.
The Boar's Head Bold product line is inspired by tastes from around the world and includes a variety of meats, cheeses and condiments that are full of flavor. (Link to full list of Bold products: http://boarshead.com/products/bold). The Boar's Head Bold line is available at select supermarkets, gourmet stores and fine delicatessens nationwide. For more information about Boar's Head and recipes, please visit http://www.boarshead.com, like us on Facebook at http://www.facebook.com/boarshead or follow Boar's Head on Twitter @Boars_Head.
About Boar's Head
Founded in 1905, Boar's Head Brand has upheld a commitment to unwavering standards for quality for 110 years, refusing to take shortcuts that compromise the integrity of its products for the sake of convenience or economy. What started with just a few products has grown to over 500, ranging from premium delicatessen meats, cheeses and condiments to an array of Italian and Old World specialties, hummus and foodservice items. All Boar's Head meats, cheeses, spreads and condiments contain no fillers, by-products, artificial colors or flavors, gluten or trans fat. For more information, visit boarshead.com or facebook.com/boarshead.