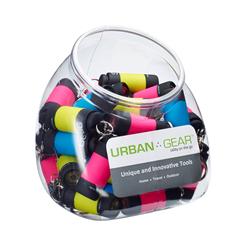 "These were designed for anyone who needs functional, small, convenient tools," said Bob Giacolo, Senior Product Development Manager.
(PRWEB) March 18, 2015
LCI Brands™ has introduced new versatile tools into their UrbanGear™ collection. Each tool is accompanied by a water-resistant case, and the tools themselves can be used for a variety of purposes, including opening bottles, cutting through packaging, and securing loose screws.
The Scarab design as well as the color of the MultiTool have been updated to meet the evolving needs of consumers. "We took aesthetics, overall use, feel, and functionality into consideration when we began rethinking our tool collection," said Bob Giacolo, Senior Product Development Manager.
Between the two, the Scarab and MultiTool offer needle-nose pliers, flat and Phillips screwdrivers, wire cutters, knives, nail files, and bottle openers.
In addition, six new designs were incorporated into the collection. The DoubleCarabiner offers outdoor enthusiasts, travelers, and others a convenient option for attaching items together.
The ClipKnife and FoldingKnife are great for camping and other situations requiring foldable knives, while the SurvivalTool features five hex tools and two screwdrivers.
The USB MiniLight can be charged via any USB port to provide light, and the CardKnife easily fits into a wallet like a credit card while not in use.
Jar displays are also available for many of the tools so that retailers can capitlize on impulse purchasing. The collection will be available in June.
About LCI Brands
LCI Brands (formerly known as L.C. Industries, Inc.) is located just outside Chicago and is home to brands such as Lewis N. Clark®, Belle Hop®, and UrbanGear. With the luggage caddy as its core offering, LCI Brands began operations in 1971, and since then has expanded to offer hundreds of products in categories such as security, comfort, organization, and health. For more information, visit http://www.lcibrands.com.