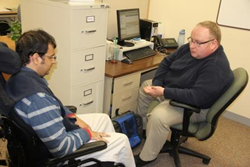 "The unemployment rate for people with disabilities is 11.2%, double the rate for non-disabled individuals. Employers and federal contractors can make a difference with this virtual job fair."
Wheaton, Illinois (PRWEB) March 18, 2015
WHEATON, Ill. – AbilityLinks.org, the award-winning job-opportunity network created in 2001 to promote the hiring of people with disabilities, will host its first virtual job fair of the year on Wednesday, March 25. All job-seekers with disabilities and inclusive employers are invited to participate.
The virtual job fair is free to both job-seekers and employers, and it will match talented job-seekers with disabilities to employment opportunities, from entry-level to technical and professional. While the website and jobs will be accessible at any time of day, a schedule will be posted of times specific employers will be available to chat. Several jobs are being posted especially for this fair by participating employers. Currently, employers enrolled for the fair include Intific, Inc.; Marianjoy; Pearl Interactive Network, Inc.; Acxiom; GC Services; Fresenius Kabi; Comcast; Writers Career; Wahl Clipper Corporation; RR Donnelley; Medtronic Plc; Case Western Reserve University; and Avon.
"AbilityLinks has hosted numerous job fairs over the last few years because they are dynamic and accessible from almost anywhere," explains Ken Skord, AbilityLinks program director. "In response to popular request, AbilityLinks has gone to a one-day job fair format, a change that job-seekers and recruiters with busy schedules have asked for." Skord says the fairs benefit both sides of employment: "These virtual job fairs not only benefit talented—yet often overlooked—job-seekers and inclusive employers, but will also help federal contractors comply with the Office of Federal Contract Compliance Programs (OFCCP) rule that went into effect last March." Full compliance with these new workplace rules requiring 7% of a contractor's workforce to include persons with disabilities would create job opportunities for nearly 600,000 qualified workers with disabilities in just one year.
Exhibiting employers will receive a virtual booth, company profile page, and unlimited job postings with links to their preferred online application page. Job-seekers will be able to post various styles of their résumé, tailoring them to specific areas of interest, and submit their résumés directly to employers. Job-seekers and employers will also have the opportunity to connect in live chat sessions.
The AbilityLinks team offers support to job-seekers, employers, and service providers by creating connections and strategies that promote a more inclusive workforce. AbilityLinks also offers a mentoring program, which connects job-seekers with an established working professional for input and encouragement in their job search. "As of February 2015, the unemployment rate for people with disabilities is 11.2%, double the unemployment rate for non-disabled individuals," Skord says. "Employers and federal contractors can positively impact this rate by participating in our virtual job fairs and networking with this talented workforce."
Registration for this popular event is underway, and sponsorship opportunities are available. Job-seekers and employers who are interested in exhibiting at or sponsoring the AbilityLinks job fair may register by clicking on the Virtual Job Fair link on http://www.AbilityLinks.org.
About AbilityLinks.org
Every day, thousands of individuals join America's fastest growing labor pool: Persons with Disabilities. Now in its fifteenth year, AbilityLinks, the free, nationwide program of Marianjoy Rehabilitation Hospital, works to match qualified individuals to employers who embrace diversity. The program has assisted hundreds of these individuals to find employment.
About Marianjoy Rehabilitation Hospital
Marianjoy Rehabilitation Hospital is a state-of-the-art facility with 127 beds for acute and subacute care. Marianjoy maintains an extensive network of inpatient, subacute, and outpatient sites, as well as physician clinics throughout the Chicagoland area.
# # #