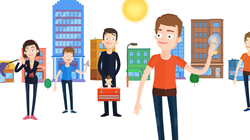 We're really excited to be showcasing so much of this great work.
Chicago IL. (PRWEB) March 17, 2015
Chicago-based media and video production company Absolute Vision Media Productions is proud to announce the unveiling of a motion graphics demo reel featuring its latest and most innovative works in animation. Once, the term motion graphics was narrowly defined and applied only to moving text graphics such as lower thirds and title treatments. However, thanks in large part to more sophisticated software and computing power, the term motion graphics now applies to a wide swath of animation types that have become nearly ubiquitous in any type of marketing media or material.
View New Animation & Motion Graphics Sample Reel In The Absolute Vision Sample Gallery.
Corporate motion graphics are now a common assignment for the staff at Absolute Vision Media Productions. As a Chicago video production company, Absolute Vision is well placed in the largest city in the Midwest—and a city with global reach at that. Even still, clients do not always immediately recognize the utility of motion graphics, especially motion graphics in corporate video projects. The Absolute Vision demo reel will help demonstrate the ability of motion graphics to explain complex topics via simple animations, add production value polish to any project with slick motion elements, or illustrate company analytics with animated charts and graphs.
"We've also found that many of our clients use motion graphics as a branding opportunity," said Mark Smith, founder and CEO of Absolute Vision Media Productions. "A lot of video eventually finds its way online, motion graphics and animation allows us to create compelling video really well and really efficiently. We're really excited to be showcasing so much of this great work."
Smith goes on to explain that the demo reel will include work produced for clients such as Ventra, Komatsu, AT&T, and Target.
Available for view on Absolute Vision's company website, the demo reel features clips from over 30 motion graphics projects and features the best and most ambitious work undertaken by Absolute Vision. Among the highlights on the reel are segments from a commercial created for Ronald McDonald House charities that features a simple artwork animation. Produced in a popular and trendy style, this animation is a great example of what can be accomplished by modern motion graphics production companies. Also included in the demo reel are a wide variety of logo graphics and engaging animations.
This type of motion graphics work has become exceptionally popular and is used in virtually all modern video projects to at least some degree. Corporate clients are often looking for a way to increase production values within a modest budget, and motion graphics provide just the right amount of polish to most projects. Additionally, motion graphics are often used as a way to inexpensively produce large content—in many ways, as a kind of infographic for video. Whether used for advertising purposes, educational purposes, or branding purposes, motion graphics are a popular messaging and video option. As an experienced motion graphics creator, Absolute Vision is well positioned to continue meeting the needs of these varied clients.
If you're interested in contact Absolute Vision Media Productions about a motion graphics project, send an e. mail to info(at)AbsoluteVisionMedia(dot)com.
About Absolute Vision Media Productions: Absolute Vision Media Productions is a Chicago-based media and production company, and part of the Absolute Vision Media Inc. creative group. Whether for agency-style media, professional video production, local production crew, or general marketing and advertising, Absolute offers national-level experience with local connections and know-how for corporate, educational, commercial, and creative purposes. To learn more, visit http://www.AbsoluteVisionProductions.com.