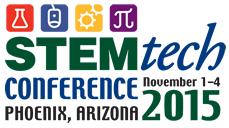 (PRWEB) March 17, 2015
The League for Innovation has announced a call for proposals for the 2015 STEMtech conference, November 1-4, in Phoenix, Arizona. STEMtech and the University of Maryland University College's Analytics Summit are joining forces to bring the best of STEM, analytics, big data, advanced technology, and learning management architecture at this newly redesigned professional development experience.
STEMtech's innovative direction focuses on attracting additional community college and university participants and corporate partners while providing enhanced networking opportunities. More so, it is an opportunity for community college and university partners to create a shared, outcomes-based framework by which students transfer seamlessly and receive support at both institutions to ensure persistence.
This year's event will take place at the Arizona Grand, an all-suite hotel nestled in a private desert oasis on the doorstep of the South Mountain Preserve.
STEMtech provides opportunities for colleagues to showcase model programs and share lessons learned through eight conference tracks:

Advanced Technology Systems and Learning Management Architecture
Using Analytics to Recruit, Retain, and Transition Students
Advances in E-Learning
Health and Science
Mathematics, Engineering, and Architecture
Manufacturing, Energy, Aerospace, and Agriculture
Integration of STEM and the Liberal Arts
Proposals for the following presentation formats are requested:
Concurrent sessions are one-hour breakout sessions featuring a successful practice, innovative program, or timely issue related to a conference track.
Roundtable Discussions are one-hour sessions that afford a personal and interactive setting for the exploration of key issues related to a conference track.
Poster Sessions are one-hour visual displays among which conference participants move freely.
League Alliance and other community college representatives are invited to submit a proposal. League Corporate Partners are encouraged to participate as presenters and exhibitors.
Presenters are required to register and pay the conference registration fee. Honoraria and expense reimbursement are not provided by the League.
The deadline for submitting proposals is Friday, May 22, 2015.
For more information, visit the 2015 STEMtech conference website.
About the League for Innovation in the Community College
The League for Innovation in the Community College is an international organization dedicated to catalyzing the community college movement. The League hosts conferences and institutes, develops print and digital resources, and leads projects and initiatives with more than 800 member colleges, 160 corporate partners, and a host of other government and nonprofit agencies in a continuing effort to make a positive difference for students and communities. Information about the League and its activities is available at http://www.league.org.