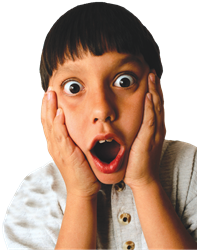 Lake Worth, FL (PRWEB) March 17, 2015
As elementary schools adopt the Common Core curriculum and standardized tests loom, parents often find their kids dealing with extreme stress. To help children cope, the producers at Storyology Studios now offer a web series students can watch from home or at school called "Big Test Success." With the web series now available online, the Emmy Award-winning producers hope to take the fear out of testing and help students perform better.
Storyology Studios-Taking the Stress out of Standardized Tests
Riley Roam, executive producer of the series, explains, "Standardized testing, like it or not, is something that is not going away any time soon. Children are dealing with this high-pressure situation now. We want to give them the tools they need to succeed."
Developed with child psychologists, the web series is comprised of short funny videos that empower and build confidence in kids. It covers:

Stress management exercises
Positive thinking techniques
Test taking skills
"But it's about more than just testing," says Roam. "These are techniques that kids and adults can use in any stressful situation throughout their lives." Co-producer, Kenny Mikey quotes, "The information is informative but funny. It helps kids deal with all kinds of stressful situations."
In addition to the web series, Mikey and Roam are the producers of a live show for children also called "Big Test Success," which has been touring elementary schools for over ten years. "We saw kids and teachers freaking out about these tests and we wanted to help," Riley adds.
"This Is Only a Test," a companion program to "Big Test Success" goes over language art skills along with techniques to help kids with standardized test stress. It's also available for children as a web series on the website. An iParenting Media Award winner, the "This Is Only a Test" has been shown in school districts and on PBS stations across the United States.
"It was important to us that everyone could have access to these tools and so we made a conscious decision to provide both at no charge," states Mikey. He adds, "And since our programs mix humor with practical exercises and motivation, we say – Fight standardized test stress with standardized laughter!"
About Storyology Studios:
A Florida based children's media-company, Storyology Studios produces original content for TV, schools, and the web. Internationally acclaimed, Storyology Studios is one of the top content providers for children in schools as well as online in the United States. For more information on the web series that helps children cope with the stress of standardized tests such as the PARCC, FSA, STAAR or curriculums such as the Common Core, without any charge, visit http://www.StoryologyStudios.com. More information about Storyology Studios can also be found on http://www.StoryologyStudios.com.