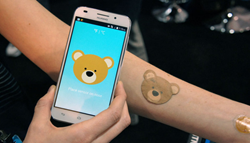 My son loves using the eSkin Thermometer when he has a cold.
(PRWEB) March 21, 2015
"eSkin Thermomter" was featured on NewsWatch as part of its monthly Tech Report, which takes a look at the latest and coolest technology products and services available to consumers. Scott Steinberg, a special reporter for NewsWatch and technology expert, conducted the app review and shared with viewers how this is best way for parents to monitor their child's health and well-being.
It's no secret that children are susceptible to a ton of germs. And because of this well-known fact, children can get up to 8 colds per year, according to KidsHealth. Whether a child gets 1 or 8 colds per year, no parent likes having a sick child. So, Vivalnk, a company dedicated to improving health with technology, created a device that every parent could use for their sick child.
VivaLnk's eSkin Thermometer is a thin, soft and flexible sticker that sticks on a child's forehead or forearm. There's an Android application that works with the thermometer so parents can check their child's temperature right from their phone. The app keeps track of the child's temperature history and there's no cost to download the app. The eSkin Thermometer even comes in several kid-friendly themes, from the traditional teddy bear to a puppy theme. It is available for preorder on VivaLnk's website for $9.99.
To learn more, visit http://www.VivaLnk.com today.
About NewsWatch
NewsWatch is a weekly 30-minute consumer oriented television show that airs on the History Channel, FYI Network, and ION Network. NewsWatch regularly features top technology products and services, mobile applications for iOS, Android, and Windows devices, unique and beautiful travel destinations around the world, health and medical tips, and entertainment interviews on the show. NewsWatch airs on the History Channel at 6:00 – 6:30 AM ET/PT and on the FYI Network from 7:00 – 7:30 AM ET.
NewsWatch is located in the greater Washington, DC area and has been on air for over 25 years. For more information or to watch the most recent episode, visit http://newswatchtv.com/tech-report.html.