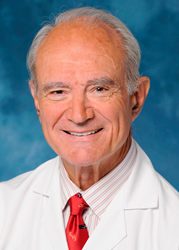 We are proud to provide this important platform for medical experts to collaborate on innovative techniques that can ultimately save limbs –and improve lives of high-risk patients.
VAN NUYS, Calif. (PRWEB) March 17, 2015
George Andros, MD, Founder & Medical Director of the Amputation Prevention Center (APC) at Valley Presbyterian Hospital, will co-chair the 13th annual, Diabetic Foot Global Conference (DFCon), which takes place March 19-21 at the Loews Hollywood Hotel.
As the premier international, multidisciplinary diabetic foot conference in North America, DFCon connects more than 400 physicians who diagnose and manage the diabetic foot, which is particularly vulnerable to wound complications and amputation. The conference attracts vascular surgeons, podiatrists, orthopaedists, general practitioners, infectious disease specialists, family physicians, wound care/enterostomal nurses, diabetes educators and vascular technologists from more than 30 countries, who share the goal of creating effective, multidisciplinary teams.
"Our experience over the past few decades has shown that interdisciplinary teams including physicians, vascular surgeons and foot care specialists from a wide range of specialties have achieved the best results in saving diabetic limbs," said Dr. Andros, internationally known vascular surgeon who co-founded and co-chairs DFCon with David G. Armstrong, DPM, MD, PhD. "We are proud to provide this important platform for medical experts to collaborate on innovative techniques that can ultimately save limbs –and improve lives of high-risk patients."
DFCon will include a formal lectures panel, Q&A sessions, specialty symposia and workshops that delve into diagnostic and interventional strategies for diabetic foot ulcers and amputation prevention. Featuring a world-renowned, international faculty, DFCon offers the opportunity to review state-of-the-art concepts and techniques. Advanced discussions address the challenges of establishing teams that provide care that is both comprehensive and expeditious to avoid the harmful effects of delayed treatment.
A centerpiece of the conference is the presentation of the Edward James Olmos Award for Advocacy in Amputation Prevention. The award is named in honor of the celebrated actor and director Edward James Olmos, who has been active in raising awareness of the ravages of diabetes and the importance of limb preservation in the Latino community. Every male member of Olmos's family, including his father and all of his uncles, has either died or lost limbs as a result of diabetes. He has made it a personal mission to educate his community, which has one of the highest rates of diabetes and limb amputation.
The 2015 Edward James Olmos Award honoree is Nicolaas C. Schaper, MD. An internationally recognized physician, researcher and educator, Dr. Schaper is professor of Internal Medicine and is the head of the Division of Endocrinology at Maastricht University Hospital. The author of more than 75 articles in peer-reviewed journals, Dr. Schaper focuses his clinical research on lower-extremity disease in diabetes. He is the founder and coordinator of the European Research Consortium on the Diabetic Foot (Eurodiale, supported by an EC grant), co-founder and scientific secretary of the International Working Group on the Diabetic Foot and member of the transatlantic intersociety consensus on peripheral vascular disease (TASC). A proponent of a multidisciplinary, team approach to diabetic wound care, Dr. Schaper is closely involved in several national and international projects on guideline development and is the editor-in-chief of the Dutch diabetes education website.
"Dr. Schaper's work demonstrates both the dedication to patient-oriented research and clinical care and the national and international scope of leadership that the Edward James Olmos award was created to honor," said Dr. Andros. "He has made a direct impact in the care and treatment of the diabetic foot, with the ultimate result being to give hope to patients who thought they were out of options."
Drs. Andros and Armstrong will moderate the opening symposium at DFCon, "The Diabetic Foot in Global Relief: Views from 30,000 Feet Up From the Sole," which will include expert perspectives by medical specialists from Cuba, Italy, the Netherlands, the United Kingdom and the United States. The co-chairs will also moderate the final symposium of the conference, "Articulating About Disarticulating: Endpoints and Conclusions."
Valley Presbyterian Hospital and its Amputation Prevention Center (APC) are sponsors of DFCon. The APC is among only a handful of facilities nationwide that brings together the interdisciplinary expertise of vascular and podiatric surgeons, limb salvage and wound management specialists in one state-of-the-art setting.
ABOUT VALLEY PRESBYTERIAN HOSPITAL
Valley Presbyterian Hospital (VPH) is an independent, nonprofit and nonsectarian hospital serving the medical needs of the San Fernando Valley community for more than 50 years. VPH has grown to become one of the largest acute care hospitals in the Valley region and continues to provide patient-centered care for a healthy community. The 350-bed facility offers advanced technology and a full range of medical services to improve and save lives.