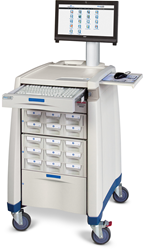 FirstDose is the modern way to track WHO is accessing the medications, WHAT medication is pulled, and WHO the medication is for.
Portland, OR (PRWEB) March 17, 2015
Capsa Solutions, a leading provider of medication management systems and medication cart platforms for healthcare facilities, today announced its new FirstDose 2.0 capabilities will be featured at the upcoming MHA Business Summit at the Bellagio Hotel in Las Vegas. This next generation of FirstDose provides significant improvements to the original system, including a new cloud-based structure, barcode medication verification, and an expanded deployment and technical services team.
FirstDose supports a fully-accountable starter dose and eKit inventory management system at the facility for institutional pharmacies. Major advantages of the 2.0 platform include:
1. Off-site inventory counts ensure medication availability and track user activity at the facility
2. Enhanced medication expiration date tracking to reduce waste
3. Scripted restocking enables quick and easy replenishment of medications at the facility
4. Customizable reporting that can be automatically emailed to the pharmacy and nursing management team on a set schedule
5. Available touch-screen monitor and intuitive software interface makes FirstDose simple and easy to use.
Since its original release in 2014, FirstDose has been hailed as an ideal alternative to expensive automated dispensing cabinets and a dramatic improvement over common low-tech methods for starter/stat doses such as the manual tackle box or plastic tote system.
With the FirstDose 2.0 evolution, the system is easier to implement at the facility, and is now supported 24/7 by an expanded deployment and technical services team. "We have invested in making sure our pharmacy customers have a robust, innovative system for managing off-site medication inventory," stated Andrew Sherrill, CEO of Capsa Solutions. "With these added features, FirstDose is the ideal solution for LTC pharmacy providers from a medication management standpoint, but also from a financially prudent position with a complete ROI possible in less than two months."
Capsa Solutions will be exhibiting FirstDose 2.0 and other medication storage and mobility systems at the Managed Healthcare Associates (MHA) Business Summit in Las Vegas, NV, starting March 18.