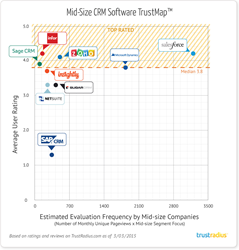 Our CRM TrustMaps™ provide prospective buyers with a pragmatic approach to identify the best-fit solutions based on market segment, user satisfaction and evaluation frequency on TrustRadius
Austin, Texas (PRWEB) March 18, 2015
TrustRadius, the leading community for professionals to share candid insights about business software, today announced the release of its TrustMaps™ for Customer Relationship Management (CRM) software, which rank products based on user satisfaction ratings and evaluation frequency among small businesses, mid-size companies and enterprises.
Unveiled in the company's first Buyer's Guide to CRM Software, the TrustMaps™ help software buyers quickly locate the solutions most highly rated and widely adopted by companies of a similar size, and therefore most closely aligned to their needs.
Each TrustMap™ depicts CRM products on two dimensions – "likelihood to recommend" ratings by users and evaluation frequency on TrustRadius, as measured by unique page views—an indication of product growth or momentum.
All ratings come from authenticated users of CRM tools who reviewed or rated the product on TrustRadius.com.
The guide also includes common capabilities of CRM software, key factors to consider during the evaluation process and pitfalls to avoid when implementing CRM software.
"While Salesforce remains the dominant player in the space, we see a lot of highly rated, small business-focused CRM tools that are simple to use and include other functionalities like marketing automation," said Vinay Bhagat, CEO of TrustRadius. "Our CRM TrustMaps™ provide prospective buyers with a pragmatic approach to identify the best-fit solutions based on market segment, user satisfaction and evaluation frequency on TrustRadius."
Brian Wellmure, Founder and CEO, Initium/Innovantage agrees: "The latest guide from TrustRadius reveals several interesting things: Salesforce continues to own mind and market share across company sizes. However, the highly rated Workbooks, WORK[etc], and GreenRope (all former CRM Idol contestants) have clearly found niches that were underserved by the broader CRM marketplace, and have created products that resonate well with their customers."
Best CRM Software for Small Businesses (Less than 50 employees)
Based on average user ratings and evaluation frequency, the Top Rated products for Small Businesses are:

Workbooks
WORK[etc] CRM
GreenRope
Salesforce
Insightly
Sage CRM
The guide includes a detailed profile of each of these Top Rated products and 6 others, including strengths and areas for improvement, as cited in user reviews on TrustRadius.
Best CRM Software for Medium-size Companies (51 to 1,000 employees)
Based on average user ratings and evaluation frequency, the Top Rated products for Mid-size companies are:
Salesforce
Infor CRM
Zoho CRM
Sage CRM
Microsoft Dynamics
Best CRM Software for Enterprise (More than 1,000 employees)
Based on average user ratings and evaluation frequency, the Top Rated products for Enterprises are:
Salesforce is the clear leader among enterprises. Insightly is also highly rated among enterprise users; however, it's important to note that the product was originally focused on small business customers, though it recently shifted focus to businesses of all sizes. Enterprise users of Insightly are most likely using the product as a focused or departmental solution rather than an enterprise-wide deployment.
The Buyer's Guide to CRM Software is free and available here: http://www.trustradius.com/guides/crm
About TrustRadius
TrustRadius is the leading site for business software users to share real-world insights through in-depth reviews and networking. We help users make better product selection, implementation and usage decisions. Every reviewer is authenticated and every review vetted before publication. Unlike simple rating sites, TrustRadius reviews are structured and substantive, averaging more than 400 words each. Reviewers can also update their reviews to keep them current. Founded by successful entrepreneurs and backed by the Mayfield Fund, TrustRadius is bringing transparency and efficiency to the $3.7 trillion business technology market
To learn more, visit http://www.trustradius.com