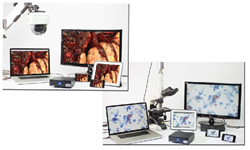 ...securely share high definition and high resolution images for collaboration on decision making.
Melville, NY (PRWEB) March 17, 2015
Remote Medical Technologies (RMT) will be returning to the United States and Canadian Academy of Pathology (USCAP) 2015 Annual Meeting from March 23rd to March 25th at the Hynes Convention Center in Boston, Massachusetts. RMT will be exhibiting various functionality additions and enhancements to their iMedHD2™ telepathology technology for both Scope and Grossing, including Remote Robotic Microscope Control, and encourage all attendees to visit their booth for a hands-on demonstration.
iMedHD2™ Telepathology Systems provide doctors and assistants with the ability to securely share high definition and high resolution images for collaboration on decision making. Year after year, RMT receives a warm response for innovative technology demonstrations at USCAP. Founder and CEO, Don Marchon, states, "We have extended our live, high definition telepathology technology to where users can now remotely control their microscopes." The newly unveiled Remote Robotic Control (RRC) for microscopes feature enables pathologists and other users to remotely control various functions of distant microscopes via the Internet. Operating as an extension of their browser-based, IT secure, high definition telepathology, RRC is accessible through the iMedHD2™ Telepathology System. Remote Robotic Control allows users to manage and navigate their microscope offsite through either a Windows or Mac device (PC or mobile). Available features include the ability to change multiple objectives, stage control, auto-focus capabilities, and a "click and drag" function to name just a few. A major development with this technology is the customizable slide movement mode (or "tour" mode), in which the system automatically scans and maps the entire slide while the Doctor selects different areas to return for further viewing. Once completed, users can also select any area on the thumbnail view and immediately be directed to the specified area.
If you plan on attending USCAP 2015, be sure to visit RMT at booth #528 and receive a hands-on demonstration of the iMedHD2™ system. For more information on USCAP 2015 Annual Meeting visit http://www.uscap.org.
Questions? Want to learn more? Call toll-free at 855-867-3040, email RMT at info(at)rmtcentral(dot)com or contact Remote Medical Technologies online at http://www.rmtcentral.com.
About Remote Medical Technologies, LLC.
Remote Medical Technologies is the creator of an innovative patented technology for delivery of Internet based premium telemedicine services. The company is a Limited Liability Corporation headquartered in New York. RMT provides a best-in-class web-based video, voice, collaboration and administration platform. With simply the use of a browser the solution is easy to deploy, operate and manage. This customizable and extendable multimedia services platform is a modular, non-fragmented approach to extending a healthcare organization's communications infrastructure. Be it across the street or around the globe, RMT drives telemedicine concepts and provides solutions that save lives.