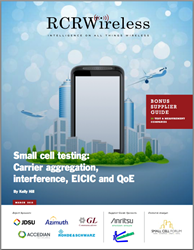 Small cell deployment has ramped more slowly than the initial hype suggested, for a number of reasons - RCR Wireless News Technology Reporter Kelly Hill
Austin, Texas (PRWEB) March 17, 2015
Networks have shifted in several ways in recent years. LTE has seen major deployments, particularly in the U.S., while usage is dominated by data and indoor origination of traffic. There has been tremendous focus on improving both indoor and outdoor coverage not only via macro cellular sites, but through the deployment of denser, heterogeneous infrastructure including distributed antenna systems, Wi-Fi and cellular small cells – with more hetnets expected to dominate the landscape going forward to solidify and expand LTE capacity.
With the need for better indoor coverage provides by DAS and small cells comes the need for more indoor testing capabilities, equipment and expertise – and installers and systems integrators around the country are grappling with many of the same issues as those RF engineers in Englewood. As small cells continue to make more progress in outdoor public use, their interactions with the macro network, features, functionality and cost of testing are coming into sharper focus.
This report focuses on the status of the cellular small cell market, the newest offerings and trends, and considerations for testing small cells and DAS in both indoor and outdoor implementations as well as small cell management. It rounds out with a look at the role that small cells may play in "5G" systems.
"Small cell deployment has ramped more slowly than the initial hype suggested, for a number of reasons," said RCR Wireless News Technology Reporter Kelly Hill. "Handovers, backhaul implementation, and indoor testing in complicated RF environments are some of the common issues being encountered in the field, while ongoing interoperability testing efforts illustrate some of the challenges that are cropping up and being addressed in multi-vendor environments."
Download this report to learn:

How the market for small cells is currently evolving, and future expectations
Recent product announcements and news in the space
A look at interoperability plugfest testing from ETSI and Small Cell Forum
Common issues encountered in field testing
Exploration of the potential role for small cells in 5G
Bonus: Guide for test and measurement suppliers
Watch the complimentary editorial webinar featuring:

Kelly Hill, Technology Reporter, RCR Wireless News
Andy Germano, Vice President, Small Cell Forum
Deepak Sivakumar, Engineering Sales Manager, Anite
Greg Spear, Sr. Solutions Manager, Accedian Networks
Rob Wattenberg, Head of North American Product Manager, Rohde & Schwarz
RCR garnered insight from experts across the small cell ecosystem on the state of the industry, from small cell vendors and test companies to those who design and install such networks. The report explores a broad range of developments and trends in network deployment and small cell solutions and managements, from new and existing technologies to testing approaches.
"A lot of people in the industry have this idea that you have a small cell, you just plug it into the wall and turn it on and it's ready to go, and that's not the case," said Deepak Sivakumar, engineering sales manager for test company Anite. "Although it's a small base station, you can't treat it the same way you would treat a macro site."
Click here to download the report.
About RCR Wireless News
Since 1982, RCR Wireless News has been providing wireless and mobile industry news, insights, and analysis to industry and enterprise professionals, decision makers, policy makers, analysts and investors. Our mission is to connect, globally and locally, mobile technology professionals and companies online, in person, and now on video. Our dedication to editorial excellence coupled with one of the industry's most comprehensive industry databases and digital networks leads readers and advertisers to consistently choose RCR Wireless News over other industry publications. http://www.rcrwireless.com