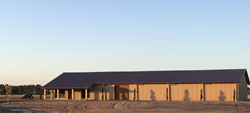 "Buy an Allied Steel Building. Wes and Ben couldn't have been any better, every email they responded to in a timely fashion." Bob Duval, NASCAR Executive.
New Smyrna Beach, Florida (PRWEB) March 17, 2015
From 2005 to 2007 Allied Steel Buildings was proud to sponsor the Bill Davis Racing Team of NASCAR. The endeavor was ultimately one that would be discussed for years around the office as a memorable experience for the Allied team.
Bob recalled the sponsorship and started working with Allied from the beginning. He had an idea in his head of exactly what he needed; however, having an Allied rep visit in person was paramount to finding the right building solution. Allied Steel Buildings' Vice-President, Benjamin Meister met with Bob in Daytona Beach and also took him on a tour a few other local projects in various stages of construction. Bob eventually purchased a 22 acre parcel in Volusia County, with ample room to complete his vision.
Bob chose steel in part to the strength, durability, and price. He went through a number of design variations until settling on the perfect one. With his Allied Steel Building, he was able to go larger than initially considered, a decision that his friend Mark advised, "build as big as you can afford on the front end."
The 50'x130'x12' metal building with a 4:12 roof pitch is impressive in size. 2800 sqft of living space will eventually become an in-law suite. A combination of spray foam and batt insulation allowed Bob to obtain the R-value of 33, so it is remarkably energy-efficient, and he exclusively utilized LED lighting for the entire property. A 2'0" overhang around the perimeter of the building adds a residential aspect to the design. He decided to have the builder fabricate a canopy of wood, located at the front end of the structure.
Bob worked with Allied Steel Buildings' Project Manager, Wesley Jones, to obtain the extra material to match the canopy to the rest of the building, that order included additional roof panel, eave trim, gutters, and fascia. During the entire process from vision to completion, Bob dealt with just Ben and Wesley, which he appreciated. Ben notes, "For us at Allied Steel Buildings, it's the ability for our entire team to work together, starting with the initial Project Manager who oversees all aspects of the design, directly working with the engineers, to ensure the client receives the best building and service."
Bob recommends, "Buy an Allied Steel Building. Wes and Ben couldn't have been any better, every email they responded to in a timely fashion." Phase two of Bob's project is slated to begin in the next few years, to build a pre-fabricated two-story home, this time with a mezzanine and exterior façade which he plans to work on with Ben and Wesley in the near future.
About Allied Steel Buildings
Allied Steel Buildings, is a recognized leading supplier of high-quality pre-engineered steel buildings and metal building systems. In its more than ten years of experience, the company has developed almost 4,000 different steel projects all over the world, delivering building solutions for diverse industries, from aviation to equestrian. One customer and one building at a time.