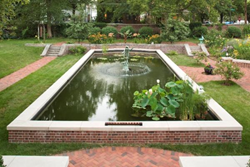 "The biggest challenge was staying true to the original backyard while using modern-day materials. A lot of work went into making everything look authentic," said Tim Johnson of Southview Design.
Minneapolis, Minnesota (PRWEB) March 17, 2015
Homes in St. Paul's historic Summit Hill and Crocus Hill neighborhoods offer a unique set of landscaping challenges for even the most experienced landscape designers at Southview Design.
Award-winning landscape designer Tim Johnson rose to the challenge of restoring the backyard and reflecting pool for a late 19th century home on Summit Ave., while Matt Burton is currently creating a landscape design for a new home in the Crocus Hill neighborhood for the spring Luxury Home Tour.
The home at 807 Summit Ave., built in 1898 by the architect Cass Gilbert, is a great example of how an historic home and its landscaping work together in concert. Restoring the home's gardens and landscaping to the way it may have looked over 100 years ago was not an easy task, requiring Johnson to play history detective as well as creative landscape designer.
Commissioned by Jacob Dittenhofer, a partner in the Golden Rule department store in downtown St. Paul, the home housed Dittenhofer's son and 17-year-old bride, who hosted dinner parties with guests like F. Scott Fitzgerald. Constructed of Mankato-Kasota stone, the 9,000 square foot mansion used to loom over a reflecting pool in the backyard, which is documented in photos dating back to 1906.
The reflecting pool was filled in by the monks who lived there after Madeline Dittenhofer donated the home to the Christian Brothers. Since it had been buried beneath soil and sod for decades, restoring the pool wasn't an option. So Johnson and his team set out to recreate the pool.
The pool's original walls and steps were still visible, but the original pavers were buried under mounds of dirt. During excavation, Johnson and his team uncovered the old pavers, which enabled them to custom match their color and design. The old photos also helped guide them through a maze of other design decisions for the pool and backyard.
"The biggest challenge was staying true to the original backyard while using modern-day materials and taking the current homeowners' lifestyle into consideration," Johnson said. "A lot of work went into making everything look authentic," he said, adding that the Southview Design team worked closely with the Minnesota Historical Society. Johnson's design incorporated hydrangeas, roses, evergreens and colorful perennials and annuals, which were popular in gardens at that time and remain popular today.
For photos of the historic backyard and reflecting pool, go to: http://southviewdesign.com/newsroom/press/summit-avenue-landscape-restoration.html.
While most homes in St. Paul's historic neighborhoods have been carefully renovated, the area is also witnessing new home construction that's congruent with the area's history and character. Working together with Detail Homes, Southview Design landscape designer Matt Burton is currently designing the landscape for the new construction at 700 Osceola Ave., which will be on the spring Luxury Home Tour, taking place June 5-7, 12-14 and 19-21.
Sitting on a hilltop overlooking a beautiful cobblestone street a few blocks from Grand Avenue, this 5,000 square foot, five-bedroom home is a modern take on a French country chateau.
A large backyard with mature trees is the perfect setting for a European garden. However, rather than a large formal high-maintenance 'knot' or square garden, Southview Design landscape designer Matt Burton opted for a modern garden design with rectilinear or straight-line flower beds, patios and walkways that offer easy access to the backyard.
"European gardens are all about color, texture, and movement. We can achieve all three, but in a low-maintenance way," Burton said. Burton's design incorporates easy-care hostas, perennials and evergreens such as boxwoods and yews for year-round color, as well as two different varieties of grasses that also provide fall color and winter interest through sound and movement.
For more information on the Luxury Home Tour, visit: http://midwesthomemag.com/events/luxury-home-tour/luxury-home-tour-minneapolis/.
For more information on Southview Design, visit: http://www.SouthviewDesign.com.