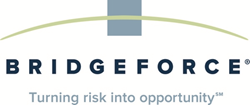 Chadds Ford, PA (PRWEB) March 17, 2015
Bridgeforce industry experts have been invited to speak at CBA Live 2015 on enterprise credit bureau compliance, vendor management and regulatory compliance for small business and fair lending. A breakfast session, hosted by Bridgeforce, kicks off the opening day of the conference with a presentation on credit bureau compliance. On day two, Bridgeforce Director, Robert DiGennaro will be presenting on third party vendor management. The final day of the conference will feature Matt Scarborough, CEO and Michelle Macartney, Director, sharing insights on how banks can manage small business and fair lending efforts under evolving regulatory mandates.
This year's conference, held at the Hilton Bonnet Creek in Orlando, focuses on the consumer expectations across every channel of engagement. With an emphasis on strategic best practices that can bridge customer experience and regulatory mandates, Bridgeforce will bring a rich experience to attendees over the course of the three-day conference.
The Bridgeforce sessions are:
Credit Bureau Compliance Solutions to Meet Regulatory Expectations
Monday, March 23, 2015, 8:30-10am | Bonnet Creek Salon X
An interactive session detailing an overall approach to quickly implement a comprehensive, enterprise-wide Credit Bureau Compliance (CBC) Program, addressing the evolving regulatory requirements and expectations. Bridgeforce experts will deconstruct specific areas of risk, highlight solutions to address these risks and share related opportunities to enhance business practices across all three areas of CBC: usage, reporting and disputes.
Speakers:
Matt Scarborough, CEO, Bridgeforce
Brian Reiss, President, Bridgeforce
Andrew Edelsohn, Senior Program Manager, Bridgeforce
Kurt Kline, Managing Partner, Bridgeforce Law, P.C.
Managing Third Party Vendors in a New Regulatory World
Tuesday, March 24, 2015, 4-5pm | Floridian Salon K
Financial institutions and consumer protection regulatory bodies expect that third party vendors need to be managed just as closely as internal operations from both a regulatory compliance and performance standpoint. This session will address the key components of a comprehensive third party vendor management program, as defined by ongoing regulatory guidance and consent orders.
Speaker: Robert DiGennaro, Director, Bridgeforce.
Compliance in the Small Business Context: A Regulatory Perspective
Wednesday, March 25, 2015, 9:05-10:05am | Bonnet Creek III
This session covers how small business banking can succeed in meeting fair lending, UDAAP, CFPB, Dodd-Frank (1071), and HMDA requirements. Bridgeforce experts explore these topics and analyze how those in the small business and fair lending space can adapt to the difficult environment.
Speakers:
Matt Scarborough, CEO, Bridgeforce
Michelle Macartney, Director, Bridgeforce
"I've long been impressed by the quality of content at CBA Live and am proud that Bridgeforce has such a major role at the conference this year," said Matt Scarborough, CEO of Bridgeforce.
More information about CBA LIVE 2015 can be found here.
About Bridgeforce
Bridgeforce is a specialized multi-national consulting firm serving a variety of clients involved in almost all aspects of the consumer and small business lending and payments space. Over 75 percent of Bridgeforce consultants come directly from client-side leadership positions across multiple parts of the credit lifecycle. Combined with subject matter expertise in operations, technology, strategy and regulatory issues, Bridgeforce has the knowledge and experience to make the hard choices in developing and implementing best-fit solutions that are both achievable and lower the risks of execution to ensure sustainability. Bridgeforce success can be attributed to a culture fostering innovation and evolving experienced-based best practices recognized within the industry. For more information, visit http://www.bridgeforce.com.
About Bridgeforce Law, P.C.
Bridgeforce Law is a boutique law firm focused on financial services, working with a variety of companies with legal and/or operational issues related to consumer and small business lending and payments. Bridgeforce Law works collaboratively with clients to provide legal and practical solutions, and will frequently call upon Bridgeforce consultants when real-life operational experience is required to fully address and quickly implement solutions to resolve the matters at hand. For more information, visit http://www.bridgeforcelaw.com.