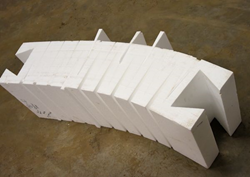 "I have been in the landscape design and installation field for over 23 years. I have never used a substrate system as easy as the one I found at Hardscape Systems." Jody Smith, owner of Coastal rock Productions.
Morris, IL (PRWEB) March 17, 2015
Hardscape Systems LLC made it's public debut to 1000s of onlookers at 4 day long 2015 World of Concrete trade show. This upstart company has introduced a patent pending modular system of EPS foam pieces that are used to quickly and easily create decorative landscaping seat wall structures that can be configured in a variety of ways. The Hardscape System proves that these structures do not have to be complicated, labor intensive and costly as when employing traditional construction methods such as actually pouring a base wall or cutting blocks.
Vertical Artisans members led by Nathan Giffin (an online decorative vertical training school) spent the week in the Silver lot showing off the craft of carved concrete, all channeled thru Hardscape Systems LLC. This modular system can be used in conjunction with carved concrete, cultured stone, natural stone and even stucco. This versatility is attractive to tradesmen across the board as it allows them to use and apply what they already know instead for needing to learn something entirely new. EPS foam has been used in the concrete industry for over 35 years. It has proven to be a reliable and dependable insulating material since the 50's and has recently been shown to have unlimited design potential. It is considered a green building material, and can improve overall structural durability despite the light mass it possesses. Despite its advantages, working with foam at the field level can still be cumbersome as non-linear structures can sometimes require an extensive amount of cutting in order to complete specific designs such as an S-shaped seat wall. Hardscape Systems' patent pending design solves that issue. The unique modular pieces system display a number of precision relief cuts that allow the pieces to flex to varying degrees enabling a curved wall without any complicated cutting.
If a contractor plans on incorporating a cap for the seatwall, Hardscapes has the answer as well. This system incorporates a fully integrated top mounted, cast in place forming system that shares the same flexibility as the base of the wall. There is no complicated cutting of pieces to fit or pre-casting pieces offsite to use later. The top can be poured in place in the shape wanted with no difficult cutting, forming or aggravation. Additions to the product line will include end columns, attachable planters, and fire pits.
The hand-carved project completed at the World of Concrete was a 28 ft long S-curved wall, terminated with tall decorative planters. In the center was a 5 foot tall slab of granite that rotated freely and served as a strong focal point for the seatwall. Other features of the project included a "fire" rock and an "ice" rock that added balance to the piece as well as provide further ideas into the artistry that can be obtained with this concrete structure system. In just a few days, this crew put together a project that would have required more than a week thru convention. This was a concrete carving project using products contributed by Walttools, but just as easily could have been done finished with veneer or natural stone.