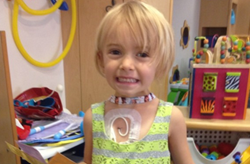 John Larson, the agency's principal, attested, "All it took was her smile. When I came across this brave young girl's story, it moved me. . And when I saw her pretty little smile despite the pain she is in, it gave me hope… Hope for her."
Chesterfield, MO (PRWEB) March 17, 2015
American Insurance Agencies has created a new community cause strengthening effort – this time focusing on helping a three-year-old girl named Madison with her fight against Cancer. The agencies will focus on shedding light and bringing awareness to Madison's unfortunate situation, for the next 60-90 days.
Utilizing its own resources and seeking the help from its own network of customers and business partners, American Insurance Agencies marches on to ensure customers, friends, families and neighbors that they are always in good hands. The agency just recently launched their master charity program, including the current campaign, and will be electing every 60 days a new individual, family or organization in need to receive their support.
John Larson, the agency's principal, who has helped touch the lives of many other children in the communities where his agencies are located, attested, "All it took was her smile. When I came across this brave young girl's story, it moved me. And when I saw her pretty little smile despite the pain she is in, it gave me hope… Hope for her."
The agency will promote the current campaign over the course of the next 60-90 days, through its social media channels, email communications, and monthly electronic and print magazines, delivered to thousands of households in Missouri. Our Hometown magazine reserves a full page to feature the campaign and details of the cause. The electronic Flipbook version of the current issue can be accessed here: http://americaninsurancepro.net/Our-Hometown-Magazine_39
To join American Insurance Agencies in supporting Little Madison And Her Fight For A New Life, donors are encouraged to visit http://americaninsurancepro.net/Little-Madison--Her-Fight-For-A-New-Life_12_community_cause and share the page with their friends and family. Contributors may be acknowledged for their donations through the agency's monthly magazine.
Once the current campaign is over, American Insurance Agencies will continue to work closely with other families and nonprofit organizations in the area, to make sure resources are directed to capable hands that can help better the local community, one family or person at a time. More information about American Insurance Agencies is available at http://americaninsurancepro.net.
About American Insurance Agencies
American Insurance Agencies provide contemporary solutions and professional assistance to help their customers achieve their lifelong dreams. Their goal is for their customers to think of them as their trusted advisor by delivering quality insurance products and the most excellent customer service experience. John Larson, the agency owner, has been in the insurance industry for 5 years and knows many local families. John and his team look forward to helping families protect the things that are important - family, home, car and more. They can also help clients prepare a strategy to achieve their financial goals. To contact an expert at American Insurance Agencies, call (636) 532.3993.