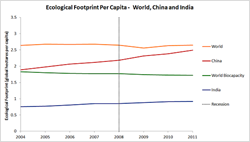 In addition to recognizing the importance of indicators like GDP, unemployment or inflation, we look forward to the day when national decision-makers around the world also track their resource dependence.
Oakland, CA, USA (PRWEB) March 17, 2015
China is the world's largest contributor to annual growth in the demand for ecological resources and services and has been for the last five years for which data is available, according to Global Footprint Network, a leading expert in natural resource accounting.
The Ecological Footprint of the world -- a measure of people's demand on nature -- has begun climbing again after experiencing a 2.1 percent decline in 2009 during the recession, according to Global Footprint Network's 2015 Edition of the National Footprint Accounts, released today. The world's Ecological Footprint increased nearly 4 percent in 2010 and nearly 1.7 percent in 2011 (the latest year data is available).
However, excluding China, the world's Ecological Footprint increased far less in 2011: 0.9 percent. The Ecological Footprint of China climbed 3.6% in 2010 and 5.2% in 2011.
While the Ecological Footprints of many countries declined during the recession, including the United States and Germany, the Ecological Footprints of China and India, the world's two most populous countries, continued to rise and now comprise about one quarter of the Ecological Footprint of the entire world.
Still, the Ecological Footprints per person of both China and India remain far lower than that of many high-income countries. For example, the Ecological Footprint per person of the United States is more than seven times higher than that of India and nearly three times that of China.
In the past six months, both China and India have announced steps to reduce dependence on fossil fuels, which would decrease their Ecological Footprints. China, in particular, has invested substantially in renewable energy, and its decades-long focus on reducing fertility has also helped preserve its biocapacity per person. But more recent news that China's annual GDP growth should remain at 7 percent for the years to come suggests its Ecological Footprint will continue on an upward trajectory.
"In addition to recognizing the importance of indicators like GDP, unemployment or inflation, we look forward to the day when national decision-makers around the world also track their resource dependence. I hope they recognize that natural resources are a fundamental asset for any economy. They should be measured and managed wisely," says Global Footprint Network President Mathis Wackernagel. "We believe it is not only critical but also possible to live within the means of nature.It can be achieved without sacrificing current human well-being."
"This is a particularly important year for looking more closely at the planet's resource budget, first in September with the new Sustainable Development Goals and then in December in Paris for the climate talks," Wackernagel adds. "What is becoming clear is that living within nature's budget is vital for each and every nation's economic strength and the well-being of its citizens."
The 2015 National Footprint Accounts compare what people demand against what nature can provide. The accounts add together all of the human demands that compete for our planet's biologically productive surface (Ecological Footprint). This demand then can be compared to all of the planet's productive surfaces (biocapacity), including cropland, forests, pastures and fishing grounds. Using United Nations data sets, these accounts are calculated for about 200 nations.
Overall, approximately 71 percent of the world's population lives in nations with a double challenge: They earn below world-average income (based on Gross National Income) and are running a biocapacity deficit. This means that by 2011, they were using more resources and services from nature than the ecosystems within their respective borders regenerated.
Global Footprint Network's annual update of the National Footprint Accounts shows that over the last decades, global ecological overshoot – humanity living beyond the budget of nature – has climbed substantially.
Ecological overshoot now stands at 54 percent above the planet's biocapacity. This means humanity demands biocapacity 54 percent faster than what our planet can renew in one year. By contrast, our planet had 30 percent more biocapacity than what humanity used in 1961, the first year for which consistent data sets are available.
Carbon Footprint
The carbon Footprint continues to be the largest driver of today's overall Ecological Footprint, and is also the leading driver of climate change. The world's carbon Footprint increased almost 1.9 percent in 2011. That's down slightly from an average annual growth of 2.5 percent from 1961 to 2011.
The 2015 National Footprint Accounts cover five decades of data. This year's update is based on more than 6,000 data points per country per year, includes several methodological improvements and is being offered under a new, more open licensing program. More than 300 organizations and individuals around the world license the National Footprint Accounts each year, including universities and financial institutions.
"Notenstein's methodology for rating sovereign bonds from a sustainability perspective makes heavy use of the National Footprint Accounts," says Balazs Magyar, a sustainability analyst with Notenstein Privatbank AG in Switzerland. "During turmoils in the bond markets, especially the European sovereign debt crisis, our analysis using the National Footprint Accounts proved to be a valuable tool for selecting sovereign bonds."
This year, Global Footprint Network is offering the National Footprint Accounts under a more open licensing structure, with a new, improved "Public Data Package" available as a free download from our website with many new ways to sort data.
Ecological Footprint and the Recession
Since hitting a peak in 2004, the Ecological Footprint per person in the United States has dropped to nearly the same level it was in 1961 (the earliest year data is available). The recent Footprint contraction coincides with the recession. Similarly, several European countries, still struggling to pull out of the recession, continued to see a downward trend in their Ecological Footprints in 2011. That included the United Kingdom, France and Spain.
Germany, widely viewed as the strongest economy in Europe, saw its per person Ecological Footprint remain virtually flat in 2011, in continuation of the last decade, which may be attributed in part to its investment in renewable energy. Sweden was an outlier, with its Ecological Footprint starting to creep up again to about 6.5 global hectares per person, though that was still substantially lower than its all-time high of more than 8 global hectares in 2004.
"With more nations now moving closer toward economic recovery, Ecological Footprints will most likely begin creeping upward," notes Susan Burns, CEO of Global Footprint Network. "However, these recoveries will be fragile and unsustainable in the long run unless we take a more proactive approach to managing our natural resource dependence."
Additional Information
● Ecological Footprint and Biocapacity Data by Nation: See if your country is running a biocapacity reserve or deficit.
● Licensing Information for Commercial Data Use
● Footprint Methodology
● Case Stories on Footprint Applications: United Arab Emirates, Philippines, Calgary
● Personal Footprint Calculator