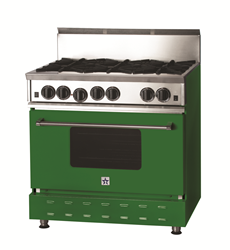 BlueStar offers an incredible 750 color choices to fit any season and its products can be customized to suit any style or cooking preference.
Reading, PA (PRWEB) March 17, 2015
BlueStar®, best known for restaurant-quality cooking equipment for the home, will unveil the ultimate commercial style, luxury residential kitchen – and showcase a plethora of colorful appliances in inspiring spring shades – at the Architectural Digest Home Design Show, March 19-22, 2015 at Pier 94 in New York City, booth #285.
"Today, the kitchen has become the main gathering place of the home, and appliances have evolved into the true centerpiece of this space," says Michael Trapp, BlueStar President. "As more homeowners discover the benefits and satisfaction of cooking like pro chefs at home, BlueStar continues to innovate with the latest restaurant-quality equipment for the home. With new designs and features usually only found in restaurant kitchens, such as 25,000 BTU burners, French Tops and salamander grills, we aim to continually incorporate innovative technology, new designs and proven performance into our product lineup."
Innovation + Performance + Color Collide
BlueStar presents a colorful culinary experience created for the home chef and kitchen designer at its ADHD Show booth. The wide variety of colors shown are inspired by a luxurious five-course meal for special guests, with specific tones customized from the Pantone Fashion Color Report 2015, including emerald green, salmon pink and of course the 2015 Color of the Year, Marsala. The BlueStar exhibit will evoke a virtual bouquet of spring blossoms. BlueStar offers an incredible 750 color choices to fit any season and its products can be customized to suit any style or cooking preference.
BlueStar will preview brand new additions to its product line-up at the show, designed to complete a true commercial style kitchen at home. The booth also will feature the newly redesigned RNB Series range, with an updated design and enhanced performance features. Also on exhibit will be the top-of-the-line Platinum™ range, featuring powerful 25K BTU burners, an interchangeable charbroiler and griddle, a gentle simmer burner and integrated wok cooking.
BlueStar will showcase for the first time its all-new cooktop, featuring a streamlined design and a sleeker size. With a reduced depth, the new cooktop can now be installed above the new BlueStar Electric Wall Oven, giving home chefs even more options to create a restaurant quality kitchen at home.
Also premiering at the show is the newly expanded BlueStar® Hood line, the perfect complement to a BlueStar® range or cooktop. The line combines heavy-duty construction with seamless design to produce a hood with uncompromised durability, functionality and beauty. These hoods can be customized with color, metals, and unique trim options.
BlueStar®, Unleash Your Inner Chef™
Handcrafted in Reading, PA since 1880, BlueStar® cooking products are designed for discerning home chefs who demand restaurant-quality results in their own kitchens. The BlueStar® product line features high-performance gas ranges, cooktops, wall ovens and hoods. BlueStar's unique performance features include an open gas burner system that produces up to 25,000 BTUs of cooking power, precise 130 degree simmer burners, and oversized convection ovens with professional-grade infrared broilers. Available in over 750+ colors and finishes, and with almost infinite configuration possibilities, BlueStar® premium cooking products offer virtually unlimited personalization options. For more information, please visit http://www.bluestarcooking.com.