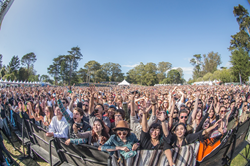 "Your first communion with the sea" Myles O'Reilly
San Francisco, CA (PRWEB) March 18, 2015
O'Reilly's Productions announces the 16th Annual San Francisco OysterFest in Sharon Meadow on Saturday, May 9, 2015, from 11:00 a.m. to 6:00 p.m. This event is the largest Oyster festival on the West Coast drawing over 300,000 people to date. Over half a million succulent oysters have willingly sacrificed themselves over the years and with succulent fresh oysters from a variety of oyster farms across the Pacific Coast there's even more to enjoy at this year's Oysterfest.
This year's festival line up, headlined by Thievery Corporation, will have support acts including Warren G, Grandmaster Flash, Late Night Alumni and Kehlani.
Recording at the Consulate studios in Washington D.C., Thievery Corporation have managed to blossom in the heart of the empire, a city the duo often refer to as "the real Babylon." The group is a major presence in a scene legendary for fierce independence, musically and politically from genre-defying pioneers as Chuck Brown and Fugazi to grassroots organizations such as Positive Force and the Future of Music Coalition. Formed in the summer of 1995 at D.C.'s Eighteenth Street Lounge – the now world-renowned venue that is still a creative incubator for DC underground music - Rob Garza and Lounge co-owner Eric Hilton bonded over strong drinks, dub, bossa nova and jazz records, then decided to see what would come of mixing all these in a recording studio.
With the renowned club and record label, acclaimed compilations, legendary live shows, and sales of over one million albums to date – every one of them self-produced and independently distributed – Thievery Corporation are undisputed standard-bearers of electronic music, and among the most adventurous and compelling artists extant. In the words of Rolling Stone: "Together, Hilton and Garza explore foreign cultures with wide-eyed curiosity and a taste for the unexpected. Then they lock themselves in a studio and record songs that tell stories of a better world."
Born Warren Griffin III, Warren G exploded out of the burgeoning Long Beach rap scene in 1994 with the smash single "Regulate," a duet with longtime friend Nate Dogg, and its accompanying album, Regulate...G Funk Era. G grew up in Long Beach listening to his parents' extensive collection of jazz, soul and funk records, also frequently hanging out at the local V.I.P. record store. As a teenager, he and his friends Nate Dogg and future superstar Snoop Dogg formed a rap group called 213, after their area code. He honed his musical skills while producing such artists as MC Breed and 2Pac. A break came when his vocal collaboration with Mista Grimm, "Indo Smoke," appeared on the Poetic Justice soundtrack. Soon after that, G recorded his debut album for Violator. "Regulate" appeared on the Above the Rim soundtrack and was released as a single. It quickly became a massive hit, peaking at #2 on the Billboard charts and pushing the album up to the same position. The album eventually went triple platinum, with "This D.J." becoming his second Top 10 hit.
DJ Grandmaster Flash and his group the Furious Five were hip-hop's greatest innovators, transcending the genre's party-music origins to explore the full scope of its lyrical and sonic horizons. Flash was born Joseph Saddler in Barbados on January 1, 1958; he began spinning records as teen growing up in the Bronx, performing live at area dances and block parties. By age 19, while attending technical school courses in electronics during the day, he was also spinning on the local disco circuit; over time, he developed a series of groundbreaking techniques including "cutting" (moving between tracks exactly on the beat), "back-spinning" (manually turning records to repeat brief snippets of sound), and "phasing" (manipulating turntable speeds) -- in short, creating the basic vocabulary which DJs continue to follow even today.
After performing at some of the biggest festivals in the country, packing nightclubs with their loyal fan base, and now recording their 5th studio album, Late Night Alumni strides into 2015 with their unmatched brand of down tempo house music and has no intention of slowing down.
What started simply as a side project over a decade ago between singer Becky Jean Williams and production luminaries Finn Bjarnson, John Hancock and Ryan Raddon (aka Kaskade), has evolved into a lasting movement. 2014 alone found Late Night Alumni entertaining the masses at New York City's Electric Zoo Festival and took them to the Paradiso Festival under the epic surroundings of the Gorge Amphitheater. Just as comfortable on the club circuit, Late Night Alumni played to shoulder-to-shoulder crowds on their own headlining dates, and co-headlined with Myon and Shane 54 on 2014's Heartbeat Tour.
No stranger to the big-room experience, Late Night Alumni had already proved that the unique blend of Becky Jean's ethereal vocals meshed with organic and electronic instrumentation does resonate on a grand scale, after opening for all dates on Kaskade's "Atmosphere" Tour. The landmark shows took the group to New York's Barclay's Center, Chicago's Navy Pier, American Airlines Arena in Miami, and The Shrine in Los Angeles.
But unlike so many touring acts of the day, Late Night Alumni has always understood that the music comes first, and they have 4 albums under their belt to prove it. With that in mind, came 2014's "Drummer." Released under Kaskade's Arkade label, "Drummer" solidified a longtime association with digital media pioneer, Michelle Phan as Late Night Alumni became the first creative partner of Phan's new venture, Shift Music Group.
O'Reilly's Productions is proud to feature such an amazing and diverse line up of talent, a show truly not to be missed.
The 16th Annual San Francisco OysterFest stands out among other Bay Area festivals because of its brilliant blend of music, oysters and Guinness stout. Although oysters are king here, there's also a wide range of food from some of San Francisco's finest restaurants with an emphasis on providing healthy, local, and sustainable products. A wide variety of beverages will also be available, ranging from lager, stout, ale wine and premium spirits. A boutique festival, The 16th San Francisco Oysterfest's intimate setting and size make it a welcome relief from today's monster festivals.
Activities at the 16th Annual San Francisco Oysterfest include the ever-popular "Shuck and Suck" competition and cooking demonstrations. Additionally, there will be a spacious play area set aside for children, a dog's shady area and live art demonstrations.
In cooperation with San Francisco Parks and Recreation, the festival supports San Francisco's goal of achieving zero waste truly green. Please help us support San Francisco with its goal of achieving zero waste. All food and beverage containers are compostable.
EVENT DETAILS: 16th Annual San Francisco OysterFest Saturday, May 9, 2014 11:00 a.m. – 6:00 p.m. Sharon Meadow, Golden Gate Park 300 Bowling Green Drive San Francisco, California 94117 TICKETS: $45 in advance, tickets available at http://www.oysterfestsf.com
More information can be found on: Facebook: https://www.facebook.com/SanFranciscoOysterMusicFestival Twitter: http://www.twitter.com/SF_OysterFest
NOTE: Children under the age of 12 accompanied by a parent are admitted free.