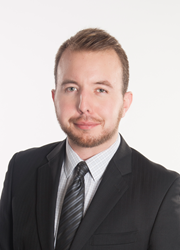 Silicon Valley, California (PRWEB) March 17, 2015
Lewis Roca Rothgerber LLP proudly announces that Jacek Wnuk has joined the firm's intellectual property practice group. Wnuk is an associate based out of Lewis Roca Rothgerber's Silicon Valley office.
Wnuk's practice is focused on patent prosecution and litigation, with a concentration on software and electronics, particularly distributed systems, network systems, virtualization, web development, operating systems, artificial intelligence and mechanics.
Wnuk has experience drafting and prosecuting patent applications before the U.S. Patent and Trademark Office (USPTO), in addition to patent offices in Europe, Canada, China, India, and Germany. He also has experience drafting international patent applications under the Patent Cooperation Treaty (PCT).
Wnuk has prepared appellate briefs for the U.S. Patent Trial and Appeal Board and has counseled clients and inventors on patentability, freedom to operate, patent validity, competitive intelligence, and sales/publications. He has also provided research and support during patent infringement and validity trials.
Wnuk is admitted to practice in California and before the USPTO.
He holds a J.D. in intellectual property from Loyola Law School, Los Angeles, and a B.S. in electrical engineering from the University of California, Berkeley.
About Lewis Roca Rothgerber LLP
Lewis Roca Rothgerber LLP is one of the largest law firms in the Western U.S. The firm maintains thriving practices in intellectual property, litigation, real estate, business transactions, gaming, banking, bankruptcy and energy and natural resources with more than 250 attorneys across nine offices including Silicon Valley, Phoenix, Tucson, Denver, Colorado Springs, Las Vegas, Reno, Albuquerque and Casper. For additional information, please visit http://www.LRRLaw.com.